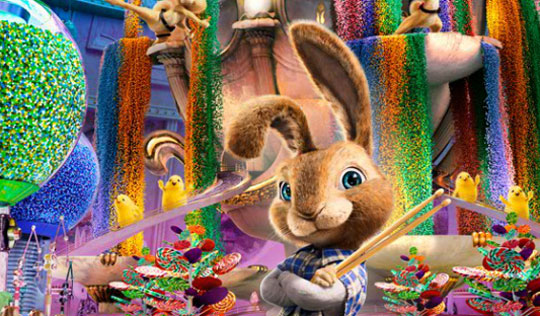 If you're looking for a cheap movie to add to your children's rainy day collection then you might want to take a look at HopP on DVD; you can pick up a copy from HMV and have them deliver it to your door for just £3.
I've not seen Hop and, in fact, hadn't even heard of it until this morning; having done a little bit of research though, it looks as though it could be quite fun and a no-real-risk purchase for three quid.
There's a dedicated Hop website with video clips and interviews with the cast, if you'd like to see it it lives ----> HERE
It tells the tale of E.B, the son of the Easter Bunny, who's destined to take over the chocolate egg business from his dad.  However, just one day before he's due to step into his father's shoes E.B decides he's not going to and leaves to chase fame and fortune in Hollywood (KIDS! Go along with the plan and then throw a spanner in the works at the very last minute!).
Fred is an unsuspecting, hapless waster merrily driving through Hollywood when he accidentally hits E.B with his car; E.B feigns serious injury, convinces Fred to look after him and becomes the house guest from hell!
I have NO clue what happens after that and as I don't think the Teenagers will be interested in watching Hop, and my youngest won't either as the title doesn't include the words Star and Wars in it, I guess it's over to imdb for me!
Thanks to ambergarcia at HUKD