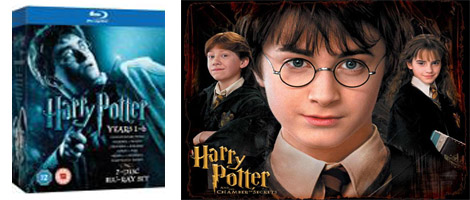 Ooooh, now this is a great deal, especially since the new Harry Potter movie is about to hit our shores. Here you get the entire set of Harry Potter movies to date for only £24.99 at Play.com, that's a substantial saving, especially for Blu-ray!
It's funny; you're either a Harry Potter fan or a Harry Potter hater. People don't seem to be indifferent to these movies and books at all, they always pick a side. I am a huge fan. I remember heaving my very pregnant bulk to see one of them, that's how much I enjoy them.
The movies (except for the last one) have actually been fantastically well done, really capturing the magic and fun of the Harry Potter books. This is one of the few series that I wanted to see made into a film. Who doesn't want to see Quidditch in action?
This is a great price for the first six movies, and would make a fabulous Christmas present for any Harry Potter fans you know.
Thanks to lucerysmum at HUKD!