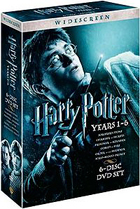 Just the opening few bars of the Harry Potter music is enough to make me want to watch these movies for the hundred-millionth time.
I remember a time when there was no Harry Potter, no wizards' chess, no chocolate frogs, no Hagrid and no Quidditch - hard to believe isn't it.
I also remember wondering what all the fuss was about until I read the first book to my two eldest (who were considerably smaller then) and then it all made perfect sense - we were hooked.
Going to the cinema to see that first movie was just fabulous; Voldermort and the Forbidden Forest scenes scared the living daylights out of my daughter - she was only 5 at the time (she's 14 now) so don't go plonking really young ones in front of these movies on their own!

For those who have yet to be acquainted with Harry Potter - essentially the stories are about wizards, witches and good triumphing over bad with more than just a little suspense, action and humour in between.
The rrp on this set is £48.93 but Zavvi have cast the REDUCTO! spell andreduced it to £27.95 - there's no delivery to pay either (I don't know what the spell is for that...free delieverio...?).
Don't be fooled into thinking these are just magic stories for kids...watch them for yourself if you've never seen them and find out what all the fuss is STILL about!
Thanks to Austin-Yeahbaby over at HUKD!