Mr Gum Audio Collection £4.99 @ The Book People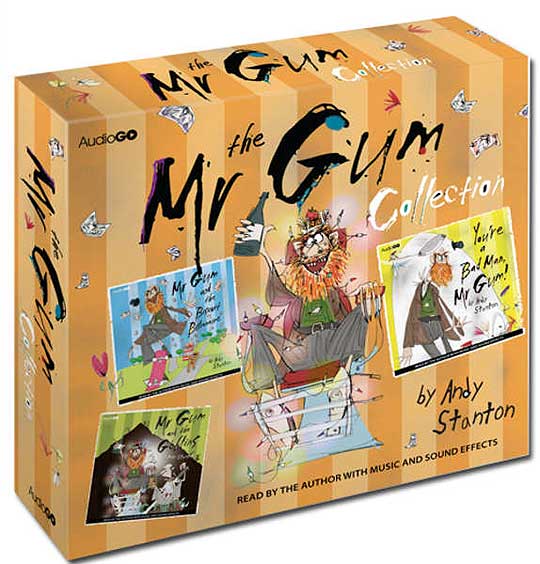 A couple of days ago, Tamsin told you about a great deal for the You're A Bad Man, Mr Gum story book - click HERE if you missed it.
Now I've got a Mr Gum Audio Collection deal to tempt you with - three Mr Gum story CDs for £4.99, rather than £18.30; you'll also get free delivery if you enter code XMAS262 into the promotion code box in your basket.
If you like Roald Dahl's The Twits, George's Marvellous Medicine et al, then you're going to LOVE the Mr Gum stories - Mr Gum is a horrible, miserable old Grinch of a man and I've yet to come across anyone, child or adult, who doesn't love the stories he's featured in.
Here are a couple of reviews from people who've already read You're A Bad Man, Mr Gum...
"This book is so funny and mad we loved it! When we got my dad to read it out loud he started crying with laughter and couldn't speak. A great laugh!"
"I read this with my 5 year old son yesterday and we spent the whole London-Milton Keynes return train journey in hysterics. (obviously we got off the train in between). Fellow commuters were looking over to see what we were reading.
The type of humour in this book is intelligent as well as silly, and the way the book engages with the reader is very clever. My 5 year old loved it, but as it also appealed to 37 year old me, I can say it has a far wider audience. Can't wait to read more in the series."
This Mr Gum Audio Collection features You're A Bad Man, Mr Gum, along with Mr Gum and the Goblins and Mr Gum and the Biscuit Billionaire; each CD story features sound effects and music too and, I'm sure, will be just as loved and laughed over as the books themselves.
Thanks to nailsy at HUKD