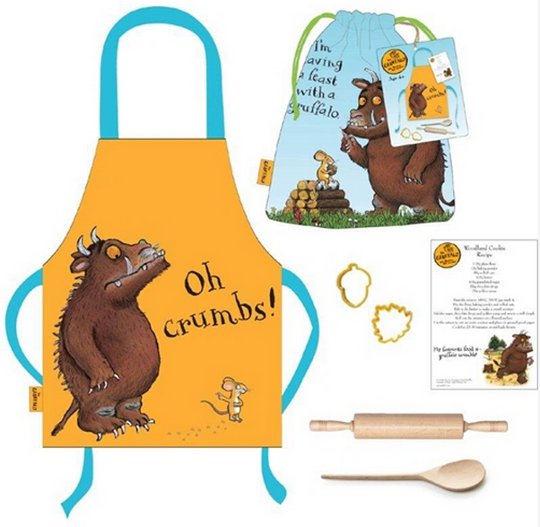 The Gruffalo Baking set is on sale at Play.com for £9.99 instead of £15.95, saving you £5.96 and as usual, offered with free delivery.
I really enjoy baking with my two year old, so I'm always tempted to buy when I see really cute baking sets on offer. I've only recently actually watched the Gruffalo, and have yet to read the book, but it is such a sweet story, I've fallen for it immediately.
This Gruffalo Baking Set consists of a rolling pin, a wooden spoon and two plastic woodland shaped cutters (an acorn, and an oak leaf, I think!), and a recipe card with a recipe for 'Woodland Cookies' but my eyes aren't good enough to make out what those actually are.
There's also an apron which is apparently easy to wipe clean, and a fab Gruffalo drawstring bag for it all to go in when not in use – although I see the bag being quickly incorporated into other uses myself!
I think this is a lovely set, and would make a really sweet gift or surprise for cooking with kids in the kitchen.
Thanks to wishihadadonkey @ HUKD