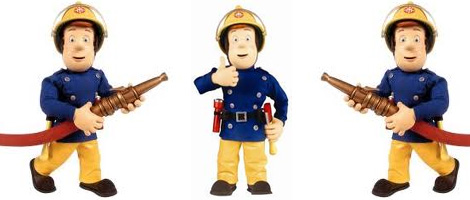 This Fireman Sam three DVD collection is a smoking hot deal from HMV - it's been reduced from £12.99 down to £3.49.
Fireman Sam has been in my life since I was about 14 (which is quite a while ago now!).
For some unknown reason he attained cult status at my school. Anyone who was anyone would rush home to watch the latest episode, full of high drama, on kids TV.
If you didn't know all the words to the Fireman Sam theme, well...it was just too awful to contemplate and I can still sing-a-long-a-Fireman Sam to this very day!
"...he's always on the scene, Fireman Sam, and his engine's bright and clean, Fireman Sam, you can-not ignore...Sam is the hero next doorrrr!"
This came in very useful when my youngest was tiny and couldnt'/wouldn't sleep - singing this very quietly, walking around in a dark room would send him off within minutes...maybe it was just my bad singing that did it, who knows!
There are three DVDs in this Fireman Sam DVD collection, full of great Fireman Sam adventures with the all the folks from Pontypandy.
And of course, apart from the being rivetting entertainement for youngsters (and strange teenagers), there is the all-important and ever-present fire safety message. I wonder how many kids have actually learned and remembered some fire safety courtesey of Fireman Sam?
Thanks to phillyboy over at HUKD!