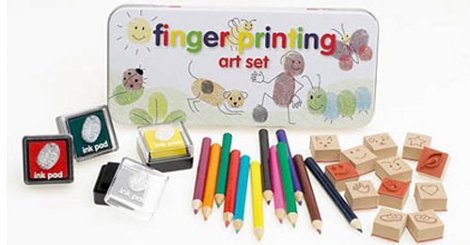 Play.com has a Finger Printing Art Kit on offer for £5, a £3 saving - although it's only £5.69 at Amazon, but still cheaper at Play.com
The Finger Printing Art Kit at Play.com turns your fingerprints into unique pieces of art. According to the blurb, you can turn your child's finger art into flowers and characters by adding faces and features by using the rubber stamps.
You can make greeting cards and wrapping paper – check out our Workshop Wednesdays for more craft ideas.
The pack comes with four coloured ink pads, 12 rubber stamps with plastic finger grips and 12 colouring pencils. It doesn't come with any paper, which is a bit silly, but really you can use any paper!
The reviewers have rated it highly and the kids all seem to love it – one mum keeps wet wipes handy to clean it off, which she says is easy. The other problem that is mentioned is that the colours can be mixed and you need to clean the ink pads, which uses up some of the ink.
It looks like a really fun set - I'd never have thought to use fingerprints for art.
Have finger printing fun!