Father's Day Gifts From Paladone - Review

When I think that it's almost father's day, my heart starts racing a little. I can hardly believe the year is almost halfway gone already. It's all just going too fast for me – evidenced by the fact that a large box arrived for us with father's day products to review.
Now, if I'm honest, my first thought was, "Great, a bunch of tat to clutter the house." But, it didn't take long for me to change my mind. In fact, when my hubby came in to see his very early father's day gifts, there was already a bit of an ownership battle going on for the oversized coffee cup.
Paladone Products has been around since 1991 and is one of the UK's leading gift development companies. You might not know their name, however, as they don't have their own 'shop' as such, but sell their products in more than 30 of the UK's biggest retailers. So whenever you've bought a little something from the 'seasonal items' isle, chances are it was from Paladone.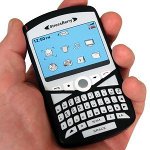 The first thing we looked at was the StressBerry. In our home, this is a pretty good all-rounder item – see, I'm a CrackBerry addict, which pretty much makes the hubby hate it. So for him, this foam rubber BlackBerry look-a-like is a wonderful alternative to a stress ball. I think he gets some rather frightening pleasure out of pummelling the poor thing. In fact, the look on his face when he squished it as small as he possibly could kind of confirmed that – especially when accompanied by the odd "arrrrghhhhh" sound.
I also thought it meant he'd pretty much destroyed it, but as it turns out the StressBerry is pretty hardy. Not only were there no cracks in the paint or foam, it actually sprang back to normal.  Since then, it's become my daughter's phone. I'm not sure what it's made up of, but it doesn't make annoying sounds, it isn't anything into her brain when she holds it near her head and for the most part means she leaves my phone alone.
Also, at £2.99 from Amazon, the StressBerry is certainly not going to break the bank.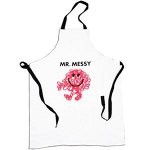 Next up was a Mr. Messy apron. While the hubby is actually a pretty great cook, it's not something he gets to do too often, so the apron doesn't see much use. Perhaps now that it's summertime it'll see the light of the barbeque a little more often, which would be great. It's made from 100% cotton, so I also don't have to worry about it melting near the stove or fire either, and is quick and easy to wash too. While he did take exception to being called messy, he liked it and has worn it since.  From a 'typical woman' point of view, it's well made and neat and tidy in all the right places. It also doesn't unravel in the wash as some cheaper craftsmanship does.
The Mr.Messy apron is available at Amazon for £9.99.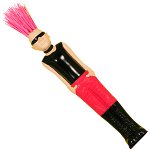 The Punk Washing Up Brush (on sale at Find Me A Gift for £3.49 at the moment) is the item we agreed is the most 'average'. No matter what we said about it, it remains a washing up brush. But that's possibly not entirely fair. It's a fun item, it puts a smile or at least a raised eyebrow on people's faces when they see it standing by the sink. The bristles are quite hard so it stands up to a good amount of cleaning. It can stand next to the sink – in other words the washing up brush balances well on those little punk feet. I found it a bit uncomfortable to hold, but with his bigger, manlier hands, my hubby didn't complain about it.
While the Amazon description says "Now you can bring laughter and joy to this thankless task with this hilarious punk washing up brush," I must admit it didn't get the same response here. It was more "It's a bit of fun, but still doesn't make me want to get up and wash the dishes." But in fairness, who wants to do the dishes?  But, for someone with a bit of an eclectic taste, or someone who likes trinkety things this would be a great gift. At least it's functional and works well, so all's not lost on me. So long as Mr.Messy does the dishes, I'm happy.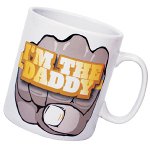 The final item we received was that coffee cup. The I'm The Daddy Mug makes Starbucks Venti cups look like shot glasses. Sort of. It has a 900ml capacity (just over 1.5 pints) and is actually ridiculously large, but while I might have my BlackBerry in one hand, I have a cup of coffee in the other, so the husband and I were fighting about who should have the cup. He is the daddy though, so he won out, but I'll be borrowing it next time we have a teething night!
A reviewer on Amazon said that the print wasn't as clear or well defined, but that wasn't a problem we've experienced. Ours looks pretty much like the one pictured.  It's definitely an ideal gift for new dads, or anyone wanting to mark their territory.
I must admit, I was dubious at first, but now as everything has a place in our cupboards, toy box and kitchen counter, it's grown on me. If you're looking for fun little presents for father's day, you won't be disappointed in these and you'll definitely get good use out of each of them.