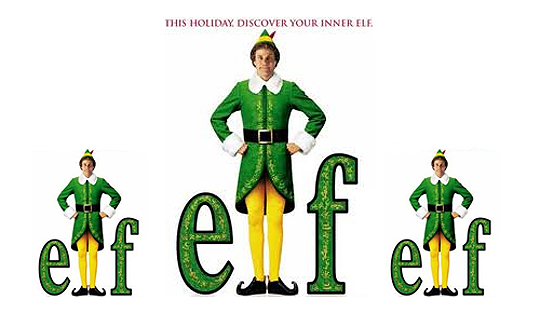 I can't help it, I adore Christmas and Elf has to be one of my most favourite Christmas movies, along with Miracle on 34th Street; ever.  Play have Elf up for grabs in both formats - £2.99 for the standard version and £4.99 for Blu ray.
As a photographer in my non-PlayPennies life, Christmas provides me with lots of stock photography opportunities so it always starts early in my house; the tree and decorations go up on 1 December to the dulcit tones of Frank Sinatra and pals, whilst indulging in a couple of glasses of festive sherry towards the end.
When all that's done (and it takes all day!) it's family 'law' to sit down and eat dinner in front of a Christmas movie; the movie of choice for the last three years has been Elf.
It's properly hilarious - even if you don't like Will Ferrell much, you'll love it - and tells the story of a human child in an orphanage who spots Father Christmas one Christmas Eve.
Santa, not knowing what to do, whisks him away to the North Pole where he's adopted by an elf couple. Of course, the baby soon grows up and is MUCH taller than all the other elves; the truth is told to him and he embarks on a journey to New York to find his birth father who, up until the moment Buddy arrives, didn't know anything about him.
Imagine a fully grown man rocking up to your high powered offices, dressed as an elf, proclaiming to be your son!  If you want a movie that has more feel-good-factor than...well, I don't know what, that will leave you feeling warm and fuzzy inside whilst having had a lot of giggles along the way, then Elf is for you.
I can't wait to watch Elf again in a mere 27 days when all the Crimbo malarkey is twinkling away in my house; awesome.
Thanks to goonertillidie at HUKD