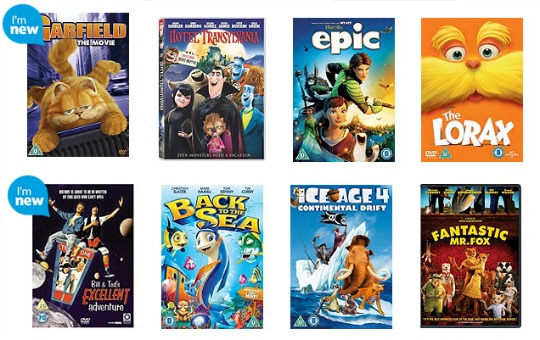 Tesco Direct has a massive technology and entertainment offer on at the moment, and part of it is DVD's from £2.50 each. There are hundreds to choose from, and a chunk of them are £2 or £3 - and with free home delivery too!
The sale covers all types of films and tv, and there's a big selection of children's and family films. The kids DVDs for £2.50 include kids films like Rio, Epic, Cloudy With A Chance Of Meatballs, Ice Age 4, Horton Hears A Who, and Hotel Transylvania. For £3 you can get things like The Croods, The Lorax, TMNT, Smurfs, Lego Star Wars and more. Even relatively new titles like Despicable Me 2 and The Nut Job are only £5 each.
What's even better is that all DVDs come with free home delivery, so there's no extra charges to add which is a fantastic extra if the click and collect isn't an easy option for you. Of course you can still opt to collect from store if you prefer.
A couple of these would be a great buy to help keep the kids occupied in the next school holidays, which will be upon us before yo know it...