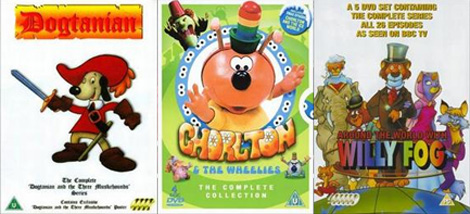 There's something about getting a DVD boxset for your birthday, Christmas or just because and Tesco have some great deals on lots of them just now.
I want to ask all of you who are in their mid to late thirties whether you remember Chortlon and the Wheelies...
Well? Do you, do you?!  "'Elloo little old laydeh!" No...?  Really? *sigh*
I know two people in the entire world, my cousin and a friend, who remember Chortlon the northern dragon who constantly frustrates Fenella the witch's plans to terrorise the Wheelies.
Well rejoice for us then as the COMPLETE series of Chortlon and the Wheelies is available as a DVD boxset for less than a tenner; Chortlon was genius, if you've never seen it youtube it and then buy the boxset *grin*
OK, most of you will remember these - Dogtanian and the Three Muskerhounds (£5.47) and, AND, Around the World with Willy Fog! (£11.47)
You're singing it aren't you..."One for all and all for one, Muskerhounds are always ready..."
These are all in the Retro TV section; there are others - kids, complete collections, best of US TV and best of UK TV.
Delivery is free and you'll get double clubcard points too; hurrah!