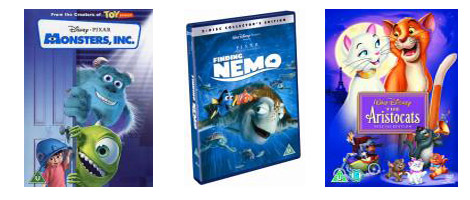 Christmas is approaching faster than a runaway train on a coffee high so this fantastic deal from Play.com may be just what you need to start sorting out those stocking fillers or small presents. You can get Disney DVDs and Blu-rays in abundance with this BOGOF and free delivery deal.
There are quite a few good movies included in this deal actually. Usually the Disney crowd are quite strict about what's what. Although did you know that Disney only release certain movies at certain times? So if your video shop loses a copy of, say, The Little Mermaid, they won't be able to replace it until Disney do another release.
I can't decide if I am impressed by this completely money mad method or depressed. Anyway, the movies on offer at the moment include The Princess and the Frog, Up, Snow White and the Seven Dwarfs (Platinum edition), Alice in Wonderland (Depp Edition), Aladdin: Musical Masterpiece Edition, Dumbo, The Aristocats, Robin Hood and more.
I just excitedly bought Wall-E and Monsters Inc. How could I not?
Thanks to Haylhoo at HUKD