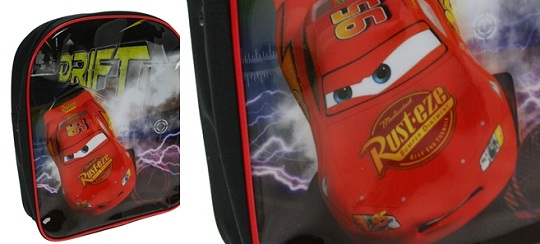 Here we are, almost half way in to the very first day of 2012. Here's hoping this is a good year! And that maybe, just MAYBE, I actually manage to get a ticket to something at the Olympics. I failed at every single round. Am not happy! Anyway, to cheer me up, here's a lovely little bargain from Play.com. A Disney Cars Kid's Backpack, for £2.99 including delivery. The normal RRP is £9.99.
In two weeks my friend's youngest has his third birthday, and looking at this gave me some inspiration. I've a number of Cars themed little items in the present drawer. I can wrap each one, put it in the backpack, and wrap that. Something a bit different at least.
There's nothing on the website to describe the bag at all, so I'm assuming it is a straightforward, single pocket, bag. It doesn't even give you a size, but I figure it is about the same as all these sorts of bags. So about right for an 18 month old to about 3 years. You don't get a lot in there but at least they can carry their own toys when you go out!
Thanks to adslis at HUKD!