Disney Aladdin Trilogy On DVD £13.45 @ Zavvi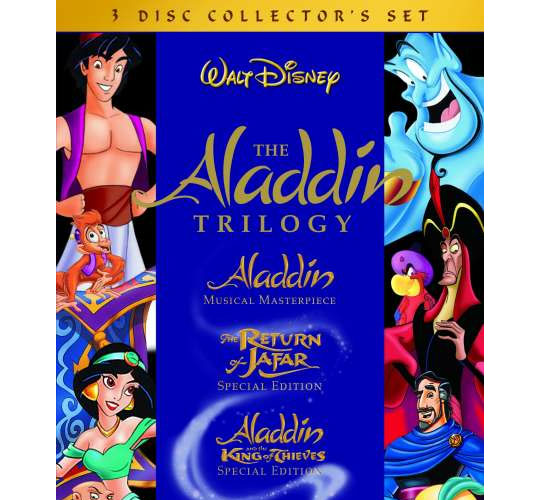 Zavvi are selling Disney's Aladdin trilogy on DVD for £13.45, saving you £25.84 on the full retail price.
I remember when the first Aladdin was released - my two oldest nieces were very tiny and I was pregnant with my eldest son.  I've lost count of the number of times I've sat and watched Aladdin with them, can narrate most of the movie (especially the Genii lines ) and sing along to all of the songs.
I also remember, very clearly, that Aladdin was one of the movies that Disney released then took OFF the shelves for years - you couldn't get a copy of it for love nor money (and that was on video too, no DVD version back then!).
Then came the next Aladdin film - the Return of Jafar - and I became disillusioned; I thought Aladdin was great, I felt the Return of Jafar was taking the whole bleed parents dry with another movie that wasn't as good was taking the whole sequel thing a bit too far; I didn't even know there was a third movie until this morning - Aladdin triliogy, really..?
But hey, don't be put off by my rhetoric - my kids and nieces loved the Return of Jafar and would probably have loved the third Aladdin movie in the trilogy too, and all three for £13.45?  Well you can't go wrong really.
Thanks to andywedge at HUKD