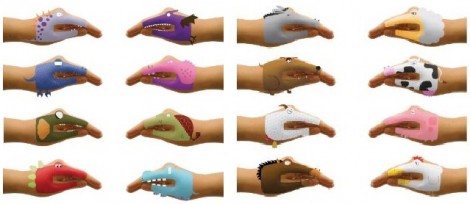 I first saw these when my son went to a birthday party and thought how fab they were. These are temporary tattoos that fit around the side a child's hand so it works like a hand puppet. Cool or what? These Robot Hands Temporary Tattoos, in a pack of 8, are available at Play.com for £3.79 including delivery. This is the cheapest price I've found online for these.
I like the Farm tattoos the most myself, but I suspect my son and his friends would most like either the Robot or the Dino ones.
The tattoo size is 80 x 64mm. Each pack contains eight designs and you get full instructions on how to apply them.
The Dino hands aren't specifically any type of dinosaur, just sort of dinosaur shaped. Some could almost be dragons, and others look a little like scary crocodiles.
The Farm hands look much more like specific animals. I particularly liked the chicken.
There is one predominantly pink tattoo in each pack, which I found interesting. Obviously pigs are going to be pink. But the only reason I can find for a pink robot or a pink dinosaur is the assumption that girls will absolutely want a pink one. Worth keeping in mind though if you're counting this up for a boy's birthday party and no girls are invited. My son is six now and I've found that at this age, they start to get very finicky about anything that is deemed 'for girls'!
Thanks to yorkie1962 at HUKD!