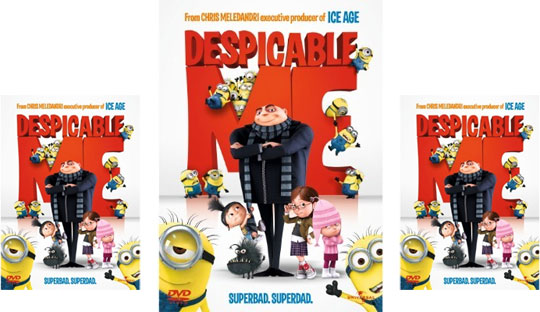 Sainsbury's are selling Despicable Me on DVD for just £4 - that's bargain basement(ish) prices for a movie that pretty new!
I've not seen Despicable Me; my youngest has seen it with his dad but as the teenagers get older, I find they don't want to go and see all the kids movies any more and so I have two choices:
Go to the cinema on my own and look a bit weird sans small kids or
Wait for the DVD release
I've read the blurb, I've seen the trailers and it was one of the movie choices on a recent flight I was on last year - I watched Going the Distance instead - and it looks like a really awesome, feel-good little animated film.
It's about a typical lovely street with lovely houses and their lovely people lovingly tend their lovely gardens - except one house, where the lawn is dead and the house is black!  In it lives a master villain who's planning the biggest theft of all time, but not of money - Gru is going to steal the moon.  He will stop at nothing and let nothing get in his way until, that is, three orphan girls decide he might be father material for them!
Now tell me that doesn't sound fabulous!  A movie to watch with the kids and, maybe, just enjoy more than they do from our adult perspective.
You can't collect your DVD in-store  - I have no idea whether they're selling in-store for this price too, it might be worth a look if you're passing - but delivery is free.
Thanks to lucerysmum at HUKD