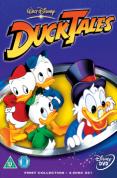 Fancy a blast from the past?  Then look no further!
DuckTales used to be on when I got home from school - they had cult status in my school and you weren't 'kool' if you weren't up to date with the latest happenings of Scrooge McDuck and his nephews Huey, Dewey and Louie.  Y'know, I can still sing the theme tune to DuckTales and be word perfect to this very day!  You had to be there to understand the significance of this.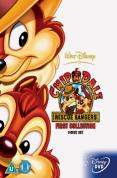 And as for Chip 'n' Dale in their Rescue Rangers guises, well they are just fab!  Solving the crimes that the police can't the Rescue Rangers team always come to the rescue - Monterey Jack was my absolute favourite and together with Chip 'n' Dale, Zipper and Gadget Hackwrench they are always saving the planet from the evil Fat Cat and his dastardly plans!
Both sets are £3.99 each and contain 3 discs with all episodes from series one of each show, there's no postage to pay either so... enjoy reliving your childhood and introducing YOUR children to the delights of these classic Disney characters.
Thanks to andywedge over at HUKD!