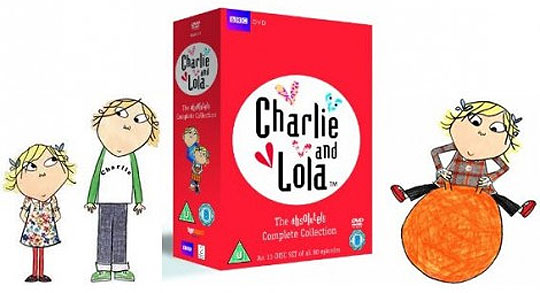 I've written about this fab' Charlie and Lola Complete DVD collection before, well -  it's back again just in time for Christmas.
I haven't met anyone - child, parent, grandparent - who doesn't think Charlie and Lola are cool. If you've never seen an episode featuring the brother and sister duo you should rectify that as soon as possible.
Charlie is Lola's older brother and he looks out for her; Lola is Charlie's younger sister and she's cheeky and has a very funny black and white view of the world; Charlie helps her to see the shades of grey.
Eleven Charlie and Lola DVDs make up this Absolutely Complete Box Set, so when it says 'complete' that's what it means - not complete series one, the entire series EVER; 80 fabulous episodes were shown on cBeebies and now you can own, and watch, them whenever, and as often, as you like; HURRAH!
The price on The Hut website is £12.95, the usual retail price is £29.99, and you just need to enter the Hut promotion code FUN into your basket to drop the price down to £11.95.
There's no delivery to pay either, so £11.95 is it.
Thanks to andywedge at HUKD