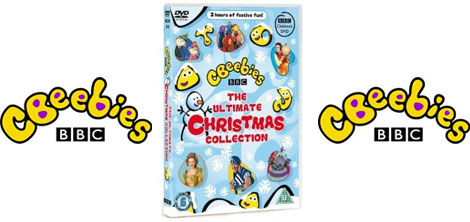 Amazon have a nice little price deal on this Cbeebies Ultimate Christmas Collection DVD
We were having a discussion about programmes aimed at kids in the PlayPennies office the other day, and the evil of the TV adverts that appear far too frequently in between, or in the middle of, all the little shows your little one likes to watch.
Unless you watch Cbeebies of course!
A safe haven from advertising hell where you don't have to bear witness to the reinforcement of gender stereotypes, and the 'if you buy this all the other kids will like you more' hideousness, let alone not having to listen to, "I want that! I need that! I must have THAT!" every 10 minutes in your own home; you get enough of that when you go out!
So HURRAH! for Cbeebies (I'm done ranting now) and HURRAH! for the CBeebies Ultimate Christmas Collection DVD.
It has three hours of festive fun from all the Cbeebies favourites:
LazyTown - Surprise Santa.
Boogie Beebies - I wish it would snow.
Balamory - Panto.
Fimbles - Tune.
Lunar Jim - Too many fluffies.
Charlie and Lola - Snow is my favourite and my best.
Big Cook Little Cook - Father Christmas.
The Roly Mo Show - Too cold.
Tikkabilla - Christmas special.
Tweenies - White Christmas.
It usuall retails for £7.99 but is currently up for grabs at Amazon for £3.97.
Thanks to Lucerysmum over at HUKD