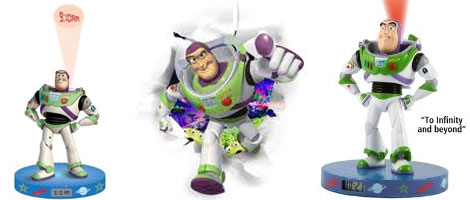 Look at telling the time a different way with this Buzz Lightyear 'Lights and Sounds' projection alarm.
I first came across projection clocks last year - almost a year to the day in fact! - and I was quite mesemerised by it!
The time was projected onto the ceiling and I'm not sure if the novelty would ever wear off - the one that I encountered was rather expensive but was added to my 'would quite like to have' list...I don't have one yet (did I mention it's my birthday later this month...I don't want a Buzz Lightyear one though, ok?).
Buzz Lightyear is poseable and will stand guard in your child's room projecting the time on to their ceiling; for the alarm he utters the following iconic Buzz phrases:
To infinity and beyond!
This is an intergalatic emergency. I need to commandeer your vessel to sector 12.
Mayday. Mayday! Come in Star Command send reinforcements. Star Command, do you copy?
He should be £29.99 but you can pick him up for £12.99, including delivery, from Play.
He doesn't appear to plug in to the mains and needs 3 AA batteries to work - I'd invest in some rechargeable ones if I were you, or take out shares in Duracell (other leading battery brands are available *grin*).
Thanks to osullivan1986 over at HUKD