Bumper Box For Bookworms DVD Box Set £5.95 @ The Hut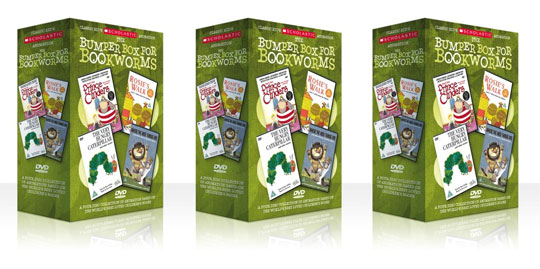 There are several places selling this Bumper Box for Bookworms DVD box set at the moment, and all of them are around the same price.  The recommended price is £14.79, The Hut have decided they'd rather let you have it for £5.95 instead.
I've written about this Bumper Box for Bookworms DVD box set before - I liked the look of it then and I still like the look of it now. It contains four discs of classic childhood stories such as The Very Hungry Caterpillar, Where the Wild Things are and some others that I've never heard of.
The not-heard-of-by-me 'classics' are: Rosie's Walk, In the Night Kitchen (I wonder if that's where Upsy Daisy and Iggle Piggle cook their meals!) and Prince Cinders, to name just some.
I know that some parents are reluctant to let their kids watch TV but for something nice and innocent to watch, and which can encourage reluctant youngsters to sit and read the book versions, you could do worse than this Bumper Box for Bookworms DVD box set.
UK delivery is free with The Hut, so £5.95 is all you're going to pay.
Thanks to goonertillidie at HUKD