'Build Your Own' Model Cars £5 @ Play.com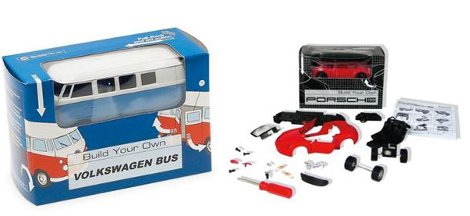 You can build your own model car for just £5 from Play.com
While model cars aren't really my thing – I don't have the patience or the capacity for things that clutter up the house – I have very fond memories of my brother and my dad building model planes and submarines and painting them in the mottled colours of military vehicles.
I do remember it as being quite an expensive hobby too, with the paints being treated like liquid gold at the time.
These die cast parts come already painted and coloured, so while it's not as much of a father-son bonding experience, it can still be a handy little gift for the dad or partner in your life, what with father's day coming and all.
There are three types available at Play:
A Volkswagen Bus, comes with a die-cast metal dashboard, opening doors, and a pull back and go motor as well as screwdriver and full instructions.
The Porche, which also has the pull back mechanism, and apparently goes 0-60cm in 3.2seconds,
And the Lamborghini, which has a die-cast metal body, opening doors, pull back and go motor, bolts, lights, dashboards and a screwdriver with full instructions.
Play reckons giving someone this is better than the real thing. Not sure I agree, but still it's a nicely priced little present.