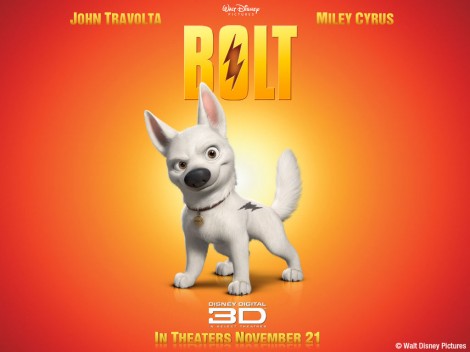 Bolt is a really lovely family movie that has had rave reviews from all my Mates Wot Have Kids. They say it can be as funny for adults as it is for the kids and that you can stomach watching it on repeat without wanting to kill yourself. Yippee!! So, down to £5.95 including delivery from Tesco Entertainment, Bolt is a bargain.
Now, to get this delectably low price from Tesco you're going to need the voucher code I've put down below. Don't forget it! Or else you'll be paying £7 for your movie.
Voucher Code: FTSL15-1
Start date: Now
End Date: 31 August
Value: 15% off all orders at Tesco Entertainment 
In this 2008 film, an adorable dog called Bolt, voiced by John Travolta, has been trained to believe he has superpowers, and that his young owner is in perpetual peril thanks to the schemes of the dastardly Dr. Calico (Malcolm McDowell). 
However, Bolt and his human companion are actually really actors in a popular TV show and everybody knows the truth except Bolt. So what happens when he is accidentally transported off the lot and has to find his way home? 
Thanks to amibees at HUKD!