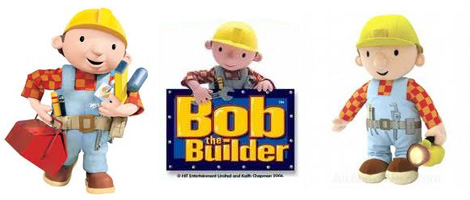 Bob the Builder Series 1 and 2 on DVD for £4.25 instead of £12.99? Yes please!
Well, I say 'yes please' but my youngest has grown out of 'Bobber' (as he used to call him) and it's Star Wars: Clone Wars and Ben 10: Ultimate Alien all the way now.
I still love Bob the Builder though...but not enough to want to sit down and watch series 1 and 2 in their entirety - so put your credit cards away, no really...you don't need to have them sent to me for Christmas, it's fine.
If your little one is a Bob the Builder fan though then having something like this on stand-by isn't a bad idea.
I'm not the sort of parent who likes to see my kids sat in front of the TV all day (hurrah for pin protection on all channels on Sky - the teenagers HATE it *grin*) but sometimes the stillness it affords can come into its own.
Ever tried getting a child to rest when they're not feeling so great, but haven't been knocked off their feet yet with whatever they're coming down with?  Sitting down with them in front of their favourite programme - Bob the Builder in this case - solves that in one easy step, and is a good excuse to nab some cuddles too.
Rainy days when you've exhausted all painting, drawing and creating activities? Bung on Bob the Builder - it worked for me anyway, good old Bob!
There's no delivery to pay on orders within the UK from HMV so £4.25 is all you need to part with.
Thanks to phillyboy over at HUKD!