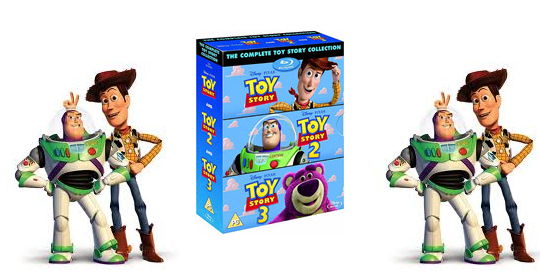 Are you going to upgrade your DVD collection to Blu-ray formats?  If you are, and the Toy Story movies are part of your DVD library, then you will definitely want to take look at this deal.
You can pick up Toy Story 1, 2 and 3 on Blu -ray DVD for just £17.99, a most excellent price I'm sure you'll agree.
I have a strange relationship with Toy Story - I loved the first one, it was released when my almost 18-year-old son was very little and we used to watch it 'together' in the dead of night and early hours of many mornings; it brings back fond memories (fond, now he sleeps for Queen and country!).
I don't think I've seen all of Toy Story 2 - if that's the one with Tour Guide Barbie, then I haven't - and I can categorically state that I haven't seen Toy Story 3; this became very apparent when I said Lotso Huggin' Bear looked lovely, friendly and cuddly, only to be told by Lynley that he was in fact very mean!
All UK deliveries are free with Base, so £17.99 is all you're going to pay for Toy Story 1, 2 and 3 on Blu-ray DVD - just make sure you have a compatible Blu-ray DVD player, they don't work in normal DVD players!
Thanks to coathanger at HUKD