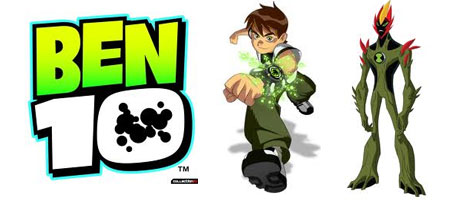 Being the recipient of this Ben 10 headphones offer will keep any little Ben 10 fan happy. Parents will be pretty chuffed too as they should retail for £14.99 but Play are letting them go for £4.93.
Have you seen the posters?
Have you watched the adverts?
Have you heard the excited whispers of "10, 10, 10!" when you're out and about?
Are you as bemused as me?
If you are then you are obviously not a rabid Ben 10 fan!  The nation's children (and most of their parents I might add) are beyond themselves with excitement, as tomorrow the date is 10 - 10 - 10 and will see the beginning of the third Ben 10 season: Ben 10 - Ultimate Alien!
Wait, wait - it gets 'better'!
For those with access to the Cartoon Network there's going to be a BIG build  up with a 'Ben 10 marathon' - with back-to-back Ben 10 episodes being shown and culminating in the premiere of two, yes TWO,  of the new Ben 10: Ultimate Alien episodes...calm yourselves now!
My youngest is beyond himself with excitement and anything Ben 10 is a sure fire way to his heart at the moment.
Here's what the official blurb over at Play says about these Ben 10 headphones:
Versatile and child friendly, stereo headphones
Awesome Ben 10 design
Enjoy Ben 10 media across a range of formats:
Perfect for DVD car entertainment systems, iPod, iPhone, MP3 players, laptops, PCs (inc Apple) and portable gaming systems.
Adjustable headband that's sure to fit even the littlest heads
Soft and comfortable for delicate ears
Marvellous! There are no delivery charges to pay either, which is even better; we do like free delivery here at PlayPennies.
Thanks to millarcat over at HUKD!