Ben 10 Alien Force - 9 DVD Box Set £16.07 @ The Hut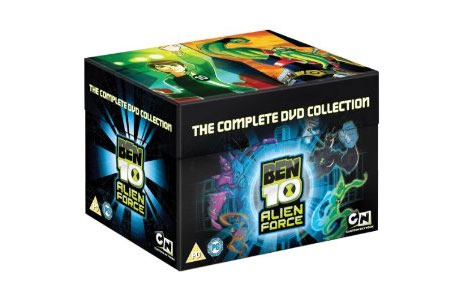 If Ben 10 is an integral part of your household - and if you have boys of almost any age then he will be - this deal, from the Hut, on a Ben 10 Alien Force DVD box set with 9 discs will be of interest to you.
There's something about owning box sets, I'm not sure what it is but having all DVDs of a series you love, or your kids love - and let's face it, there are just as many parents who are as into Ben 10 as their kids.
I still don't fully get the appeal of Ben 10 across the generations and I've decided I don't have to - just accept that he's the boy that all little boys want to be, watch the cartoons with my youngest, play alien battles with him and his Ben 10 action figures (and lose a lot) and download Ben 10 apps onto my iPhone; easy, I can do that.
The full retail price for this Ben 10 Alien Force DVD box set is £39.99, The Hut are currently selling it for a published price of £17.85 HOWEVER of you apply this code - SALTEEN - to your basket then the price will come down to £16.07.
For once Amazon have been beaten on price, even without the code, as they're selling it for £22.12 at the moment.
You don't pay for delivery within the UK if you order from The Hut either, so you don't have to add any postage costs onto the £17.85; dispatch takes up to three days and delivery another three to five working days.
Thanks to holnwob at HUKD