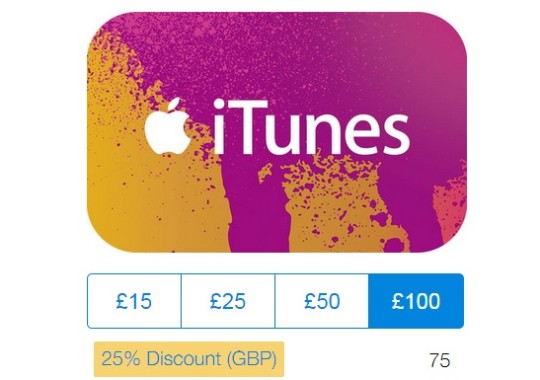 iTunes has a sale on their digital gifts at the moment where you can take 25% off by purchasing credit online.
The 25% off offer is only applicable to iTunes codes valued at £15, £25, £50 and £100 each purchased through PayPal Digital Gifts. Offer is not valid for other iTunes Code denominations.
You have to click through at the link above, then choose your denomination.
You will pay £11.25 for £15 worth of credit, £25 will cost you £18.75, £50 for £37.50 and £100 will be yours for £75.
The offer is limited while stocks last, but you can buy for yourself or as a gift. You can use your iTunes Code for music, films, TV programmes, games, apps and more on the iTunes store, the iBooks Store, the App Store and Mac App Store and can access your content on an iPod, iPad, or iPhone, and watch or listen on a computer - Mac or PC.
Thanks to loopylloyd at HUKD