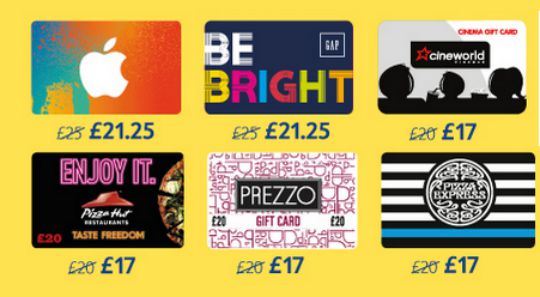 Looking for a present but unsure what to buy them. Gift Cards are a safe option for those hard to buy for people. Tesco have 15% off selected Gift Cards at the moment, both in store and online at Tesco Gift Cards. There are six in the deal but look to be for some of our favourite retailers. This offer ends on 9th August 2015.
There are three different food outlet Gift Cards included in the 15% off deal at Tesco. Pizza Hut, Prezzo and Pizza Express. These are good to buy if you dine out at these places regularly so that you benefit from the discount. If you are planning a big family meal out then grab £40 or £60 worth and save £6 or £9 on your meal.
The other three included in this great deal are Apple (iTunes), Gap and Cineworld. Again, great gifts but if you already use iTunes all of the time then why not save yourself some money by buying a Gift Card? Summer holiday treat to the Cinema? Get the Cineworld Gift Cards and save yourself £££'s.
All Gift Cards are £20 ones in the deal and so you will only pay £17 unless you buy them online.
You are better off getting them in store as you get charged delivery when you purchase them online. It's £1.50 for all Gift Card orders under £50 and £2.95 for all of those over.