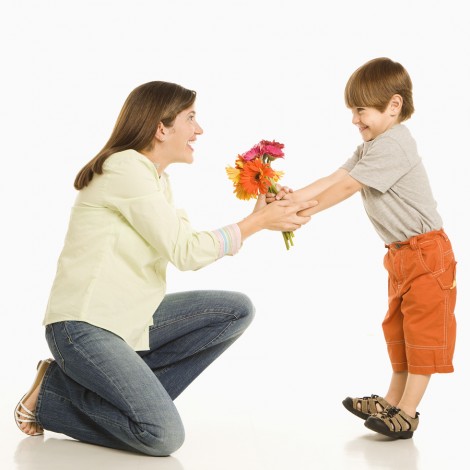 Hopefully mums around the country will get treated to a lovely meal this Mothering Sunday (increasingly getting known as Mother's Day). While I love the idea of getting a meal out, getting a table for lunch on Mother's day is a bit like getting a table for dinner on Valentine's Day. Another option is to have a family meal that, ideally, mum doesn't have to cook.
There's also the traditional breakfast in bed, and a few other special treats you might like to consider for the mum in your life - your own, your mother in law, or your partner.
Breakfast Ideas
If you're letting the kids do the breakfast themselves, then you might want to limit things to toast. As a way of dressing it up a little you could use a toast stamp. I'm a new convert to these having only just used one for the first time when reviewing some Valentine's Day products. I have to say I didn't really think it would work! This one looks fab, it's a Best Mum stamp for £2.49. Although you can find lots of different toast stamps online for mum.
Can you go wrong with pancakes? Personally I think not. I love mine lathered in maple syrup. It doesn't matter whether you buy the mix ready made, or make it yourself (really it is just milk, eggs, sugar and flour). The important thing is that you find out in advance what mum's favourite topping is!
For a bit of a difference, you could have a go at making a banana pancake. I'd love it if I got one of these - I found this recipe on the fruit and veggie guru website.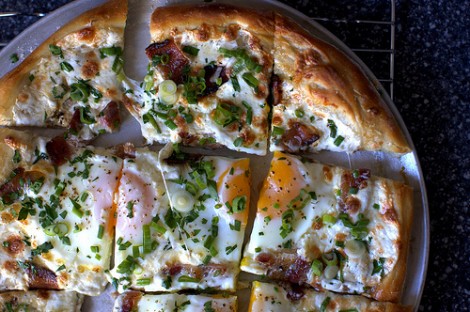 Breakfast pizza anyone? Researching this article is the first time I'd heard of this. No doubt it is something everyone else has been eating for years. It is simply a pizza base with bacon, eggs, cheese, maybe some onions and herbs on top. I'm linking to this recipe here to show you an example as it includes the dough. But really for simplicity, you could just buy a pizza base.
If you've the time and the ability then try out the BBC Good Food Guide's Spoilt rotten Mother's Day menu. Now this would be a real treat. Chive bread with smoked salmon. With a pot of fresh coffee. And the Sunday papers. With the kids bouncing around the bed. The perfect morning.
Baking
Personally I'm a big fan of chocolate cake for breakfast. Anyone else of an age where they read books about teenage delinquents instead of vampires? You'll know what I mean then if you've read the book or seen the 80s brat pack movie The Outsiders. SE Hinton could teach Katherine Meyer a thing or two about tortured teens I reckon! But I'm going off topic now.
Cake is always good for any occasion, and this is something you can get the kids involved in. Some cupcakes made for mum, and iced. You can have a great deal of fun with this. Or make some cookies and use writing icing so the kids can write messages on there. We did this last year for Father's Day and my husband was thrilled to bits. The only downside is that it makes eating the cookie very difficult.

Asda sells its Writing Icing for £1.74. There's three types - the glitter one could be a lot of fun. Other supermarkets will sell something similar too. I've used these types of products before, and they are a great way to add some fun to icing cakes and cookies. However, I have found they are always quite stiff. You might find it easier if sit them in a cup of very hot water for a while before using.
For something a bit different you could try getting a photo printed onto edible paper, using edible inks. I remember when these first started to appear on the market, and it cost an arm and a leg to get a cake made with photo icing. Now, it seems, you don't even need to get a specialist printer.
Home printers can be used. It would seem that you can get edible ink cartridges for the Canon iP4700, for example. Now, I have to warn you I've never actually tried this myself. But in theory I can't see why it wouldn't work. I would probably keep the printer just for printing edible inks myself.
Edible ink cartridges, like ordinary ink cartridges, cost almost as much as the printer itself. You can buy them online from websites, like AnyCake.com. Then you'll need something to print on. Rice paper, or sugar paper, or specialist icing sheets are good. A pack of 24 A4 sized sheets on the same website cost £23. Don't limit yourself to cakes, photos can be printed for cupcakes and cookies. Now that would make a fabulous take home gift for a party, if you are having a smallish one (I'm not sure I'd want to try and print out individual photos and put them on cookies for a party of 20 to 30 kids!).
If you just want to do this for a one off, you can order a photo icing sheet online. Typically prices for this seem to be around the £7 mark. You'll need to make sure you do this in good time for Mother's Day though. All you have to do is email them the photo, and they will send you the icing sheet with photo printed on it.