Ah. Chocolate. What's not to love? And when it's really good chocolate too, well, it's almost unfair to expect a balanced review, really, because there's not too much bad in good chocolate, you know?
One of the definite perks of this job, however, is getting to test out fun and yum products like these, so here's what I thought about the Thorntons Mother's Day Chocolate range.
Starting at the top, price wise, is the Thorntons pretty-in-pink Mother's Day Collection (£9.99). "Perfect for the chocoholic mum," says Thornton's, "the collection is filled with all her favourite centres including truffles, mousses and pralines, all smothered in milk, white and dark chocolates."
These are delicious. The pralines are smooth, the mousses are rich and the truffles are… truffle-ish.  There are milk, dark and white chocolate options, and there's a fantastic range of fillings, from lemon mouse to toffee truffle, strawberry crush and various coffee flavours too.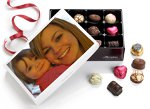 If you're buying this for Mother's Day, there's a fantastic 'make your own' box option (from £14) – you can design your own single, double or triple layer box, with a personalised picture, and then you choose the chocolates you want. Mum doesn't like coffee chocolates? Leave them out! Crazy about Champagne hearts or cherry truffles? Pop a few in the box! I think this is a fantasti c idea, actually as everyone has their favourites!
You can choose one of their boxes, or design your own, and have ten box colours to choose from as well as the ability to add a personalised message to the side of the box. Chocolate is nice, Thornton's is great, but a present made with a specific recipient in mind? A winner, in my view.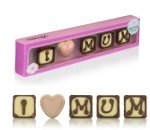 The second chocolatey goody that came our were the I Love Mum Cups, four square chocolate cups, and one heart shaped. The four cups have the words I and MUM decorated on them in chocolate. The cups are filled with smooth truffle filling, and are 'nice' tasting chocolate, although after the variety of the previous box, I did find it a bit of a let down.
These chocolates are gluten and alcohol free, and are suitable for vegetarians.
There's really nothing wrong with the I Love Mum Cups, but they weren't as wow as the first lot.  If you're getting the mum in your life a present, and you'd like just a little something to accompany it, this is a great option.
The absolute top pick, for me, from this Thorntons Mother's Day selection, however, is the Mum's Fudge Gift Pack (£4.99). I like fudge anyway, but I'd probably never choose it over chocolate… till now. This vanilla fudge is smooth, and rich and sweet, and for a mum with a ridiculously sweet tooth, it's a fantastic gift because this is so sweet, it actually lasted me a few days. And I'm really not a 'eat something over a few days' kind of person. (My gran can open chocolate and have a square a day. I did not inherit that trait.)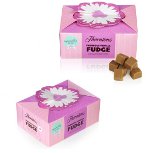 These are actually so sweet and rich, however, that they did last a few days in our home and were just the thing for me. Yummy and delicious. They come in a box with a pretty flower design on the lid, and my husband actually commented that this was a nice touch – he was right. I think this is a gorgeous gift or gift accompaniment for Mother's Day.
The fudge is vegetarian, and it's alcohol free. It does contain milk, egg and soya though as well as possibly having traces of nuts, so it's not allergy friendly.
Thorntons are running a Mum of the Year competition where you can win a spa and hotel break for you and your mum and a year's supply of Thorntons chocolates. They don't say exactly what a year's supply is, and I'm curious… surely what you'd eat in a year differs from person to person?
Either way, there's a form you can complete to enter and there will be three runners up too, who will all receive a £50 Thorntons hamper.
So, The Good:
It's chocolate and fudge, it's yummy, smooth, rich and delicious, and the filled chocolates are really fantastic.
The Bad:
Erm… Didn't you hear me? I said it was chocolate. (Although, it is more pricey than your average chocolate, but then it's better than it too.)
The Conclusion:
If you want to treat mum to something extra special, or you just want a little token of your appreciation; if you have a lot to spend, or just a tiny amount, you're sure to find something, and you know you're spending your money on quality.