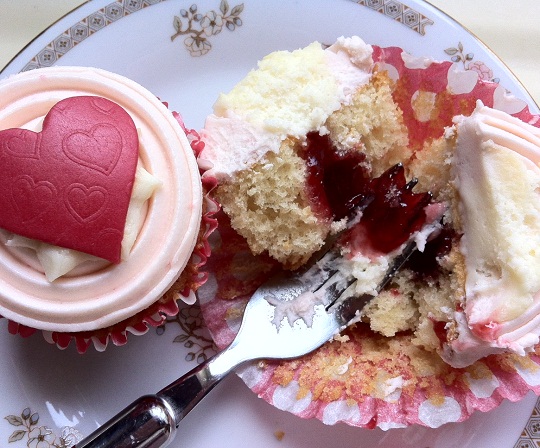 It is that Valentine's time of the year again. When the entire high street seems to turn pink, like it's making one, giant, national stand of solidarity for Breast Cancer (I wish). Except that it is all in aid of getting you to spend money to show the person you love that you love them.
Valentine's Day doesn't get up my (romantic) nose like it does for some people. Sure, I don't need to have a day to remind me to tell my husband I love him. I probably do that on a daily basis. However, it is kind of nice to have that one day of the year dedicated to just being soppy.
With that in mind, I'm up for the day being about having someone in your life to be soppy about. Could be a friend, your children, other family, or pets. Doesn't have to be a partner (we're not teenagers anymore, and we know the world won't end if we don't have a date on the 14th of February!).
So splash out, and give yourself or someone else a little treat. Just don't go spending over the odds on expensive meals, and bunches of roses that cost ten times as much as they will on the 15th of February!
Tesco * has come out with a range of alternatives this year, and we got some of them in for review. Specifically, the Be Mine Milk Chocolate Swirl Strawberry Lolly, ChokaBlok chocolates, and Valentine's Day Cupcakes. This last item you can see pictured above. Read on to see if it is as mouth watering as it looks!
Be Mine Milk Chocolate Swirl Strawberry Lolly
From Be Mine, the Milk Chocolate Swirl Strawberry lollies are priced at £1 each. I think that's a fabulous price, as these lollies do look especially lovely.
Although attractive, they are a totally odd mix. Flakes of softly dried strawberry scattered across the top of a large, swirly, chocolate lollipop. The chocolate is thinner than you expect it to be from the packaging. The lollipop stick was only just inside the chocolate. You could see it at the back.
It was very sweet chocolate, and didn't have a strong flavour. Also a slightly waxy texture that didn't feel that pleasant when combined with the fluffy bits of dried strawberry. I did really like the dried flakes though, these definitely had a strong strawberry flavour, and you could smell it when you opened the packet.
Over all the lollies look more expensive than they are. One of these would look gorgeous on a tray, or white linen place setting, next to a nice, tall glass of something fizzy and a single long stemmed rose.
Overall verdict: 7/10. What the lollies lack in flavour they make up for in presentation and price.
Valentine's Day Cupcake
I cannot believe that these Valentine's Day Cupcakes are only £1. Nor can I believe that they're being sold through Tesco. They look, and taste, like cupcakes bought from a specialist cupcake bakery shop. I got mine in the post, and they came in these great little individual cupcake containers. Not fool proof though. As you can see from the photo they were a tiny bit damaged.
The cupcakes have a strawberry jam centre in the middle of the vanilla sponge . I thought it was more of a conserve than a jam although I'm not entirely sure what a conserve is! What I mean is that the filling tastes very much like strawberries, isn't that sweet, and is a little sticky but mostly runny. And yummy.  The icing is a swirl of buttery strawberry flavoured icing, and a fluffy creamy icing in the middle, with a strawberry heart on top. Cream-licious and my favourite part of the whole cupcake (yeah yeah I have a sweet tooth).
The smell of strawberries and cream is simply divine, and wafts off the cupcakes in a delicious aroma.
They're a fair size too, no skimping here to make them that little bit smaller. I've paid £2.50 for worse cupcakes.
Taste wise, I loved them. My husband wasn't so keen. He liked eating one cupcake, but declined a second commenting that they were a bit "nuclear"! He meant they were seriously sweet.
Overall verdict: 10/10. Not for those who don't like sugar, but then you wouldn't be getting a cupcake anyway!
ChokaBlok Cookie Crumb Mon-Star Love Heart
A heart of chocolate. What's not to love? The ChockaBlok Cookie Crumb Mon-Star Love Heart is the priciest of the three items at £4. And for me, it is the least good value too. Although you get a fair sized package, the size of the chocolate doesn't quite match. But I think what puts me off this the most is that I just don't really like the chocolate.
I have a sweet tooth and I adore chocolate. But I find this brand too sweet for me. The sugar just seems to over power the taste of chocolate. I also find I'm not a huge fan of the mix of textures - the 'fillings' are sprinkled over the top instead of mixed up inside like they are in other chocolates.
That said, I can't fault the presentation. It is a lovely, fun chocolate product.
Overall verdict: 6/10. To be fair, although this wouldn't be chocolate I'd prefer to eat, I still ate the whole thing!