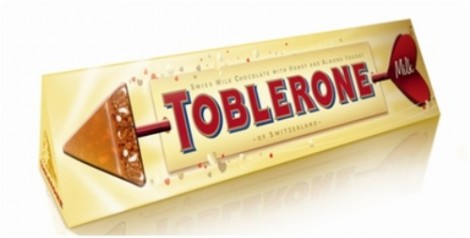 Share the love with your partner or secret admirer with a special edition Valentine's Day Toblerone. It's the same sticky, yummy, deliciously scrummy chocolate that you've come to love but with special Valentine's Day packaging.
The enormous 400g version in fruit and nut has the most delightful packaging, a Toblerone arrow shooting through a message saying, "Straight to your heart." It has a recommended retail price of £3.95 but you're bound to find a fab price at your local retailer like Tesco or Asda.
You can write a personalised message on the box and sneak it under their pillow, onto their desk or anywhere that catches your fancy. What a fab way to start the 14th of Feb by finding your very own Toblerone with a loving message. I've already dropped heavy hints to my partner.
You don't have to just eat yours on Valentine's Day, why not nibble on some of that yummy nougat and chocolate while watching your favourite chick flicks or reading a lush girlie novel. I unwrapped mine in the bath with a good book and a glass of wine...bliss.
So, this is definitely my deal of the day. Only £3.95 for 400g of amazing chocolate that lasts for ages and tastes divine. Pamper yourself with a delicious treat this month. I was lucky enough to get a sample of this Valentine's edition Toblerone and it was gone in minutes. Between my husband and my daughter the triangles kept disappearing!
This is an essential item for your pampering parents Valentine's month.