Not all mums want chocolates and flowers for Mother's Day (Sunday 3 April), especially not with Easter following on so soon afterwards.
The St Eval Candle Company are a UK company based on a farm on the north coast of Cornwall.  They're in their twelfth year of trading now and still make their candles using traditional methods; they also offer a bespoke candle making service too.
We were sent a St Eval candle to review in time for Christmas and it was lovely, so we were very excited when St Eval told us they were sending us two new candles to look at as gifts for Mother's Day.
National Gallery Candle Collection
We sent a National Gallery Candle and a Scented Tin Candle off to PlayPennies mum Sasha to review on our behalf.
"I love candles," Sasha told us, "but then who doesn't? There's just something hypnotic about the flame and if you get one that smells wonderful then they really are a treat."
The National Gallery candles are a collection of fragranced candles housed in glass.
They've been designed following a partnership between the National Gallery and the St Eval Candle Company, and were inspired by the paintings of history's greatest artists, all of which are on display at the National Gallery in London's Trafalgar Square.

"The first candle I took out of the box was a Vincent Van Gogh National Gallery candle. It came in a box with his iconic Sunflowers painting printed on it; very nicely packaged," Sasha described.
The other artists and paintings which make up the National Gallery Candle collection are:  Suprised! by Henry Rousseau, The Hay Wain by John Constable, The Water Lily Pond by Monet and A Wheatfield with Cyrpesses, also by Van Gogh.
"Of all the candles I could have been sent it was the Sunflowers by Van Gogh; I can't stand him and really don't think his Sunflowers deserve all their hype," Sasha revealed.
She went on to say, "The smell of the candle was ok and it was encassed in yellow glass featuring the signature of Mr Van Gogh, well the word 'Vincent' anyway."
The Sunflowers candle is described as smelling of
Breezes of French mimosa with hints of amber and linden blossom in this light and delicately inviting candle.
and it retails for £17.30.
Sasha told us she was very disappointed with the Vincent Van Gogh 'Sunflowers' National Gallery candle.
"The burning time of the Sunflowers candle is supposed to be 60 hours; mine managed a total of about five hours before the wick drowned in melted wax," Sasha told us.
"When it had cooled, I gouged the wick back out, removed about 3cms of wax , trimmed the wick to a sensible length and tried again."
Sasha reported that this time the candle burned for another six hours before the wick drowned again.
"I'm sure that I was just unlucky to have been sent a candle with a wonky wick, or whatever it was that caused it to keep falling down into the wax and being snuffed out.  But even so, if I'd paid £17.30 for it I'd be pretty miffed!"
Scented Tins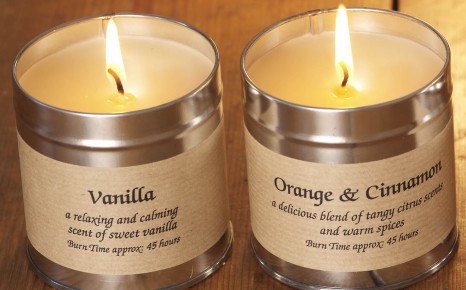 The other candle we sent to Sasha was a scented tin called 'Joy'.
We reviewed a scented tin from the St Eval Candle Company over Christmas and it got a rave review from our tester, so we were interested to see how this one matched up.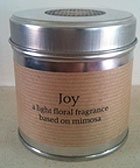 "I really liked the look of this 'Joy' scented candle tin; it's simple and basic looking without looking cheap," Sasha described.
She went on to say, "I was a bit worried about the description 'Joy - A Light floral fragrance based on mimosa'.  Hmmm, well the other one was based on mimosa too (and what IS mimosa?!) and whilst it wasn't unpleasant it wasn't my favourite smell in the world, but then I'm more of a vanilla candle person than flowers."
We're pleased to say that the Joy Scented Candle Tin fared much better than Vincent Van Gogh did!
"OH! OHHH!! I'm in love with this scented tin candle," Sasha enthused, "it's just fabulous! How it smells so different from the other one I do not know, but it's lovely.  It smells fresh, light and clean.  It's not sickly floral, if you know what I mean, it's just wonderful."

Sasha also told us how it just seemd to burn forever and ever, "I read the other scented tin review you had over Christmas and can only conclude that there's something about it being in a tin that makes it burn so evenly, and have the wax turning in on itself as it goes.
Oh and one more thing about the smell, even though it's light it pervaded almost the entire house which is not small; I had it burning in the lounge and within an hour you could smell it everywhere downstairs, up the stairs and right across to the far end of the landing. I'm very impressed with it."
And finally...
So two very different verdicts on these two candles from the St Eval Candle Company with the cheapest winning by miles!
The National Gallery candle retails for £17.30 and really didn't live up to expectations or it's 60-hour burning time, whereas the Joy Scented Tin Candle did exactly what it said on the tin - gave Sasha a lot of joy and burned beautifully.
The scented tin candles retail for £8.65 and have a quoted burning time of 45 hours, Sasha is pretty sure it will burn for a lot longer than this.