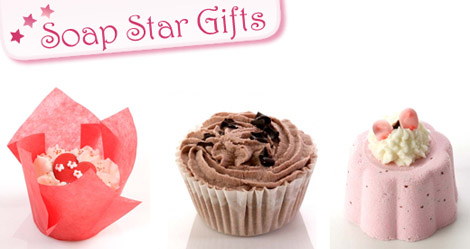 In case you haven't been paying attention, Mother's Day is looming. It's on Sunday 3 April this year so you only have one and a half weeks to sort out suitable presents and cards and stuff.
I said SUITABLE presents, not a last minute dash to the One Stop or 8 til Late first thing on Sunday morning!
I know that chocolates and flowers are the most obvious things to choose, but what if the mum(s) you're buying for aren't chocolate fans or are currently on a no-chocolate diet?
Soap Star Gifts got in touch with us recently and we think they have the PERFECT solution to this no-cake-no-chocolate pressie dilemma.
I found myself utterly mesmerised by the things we sent to our mum tester, Becky; I've never seen anything for the bath that looks as fabulous and good enough to eat - although you can't, so please don't try!
The response in Becky's household was just the same...
"OOH! How gorgeous! A lovely box of chocolates!" was Becky's reaction to the Luxury Chocolate Lovers Bath Melt gift set (£10).
"They look so edible.  In fact, I had to keep the cupcake one hidden away so that my toddler couldn't eat it; it looked far too scrummy."
And she's not wrong, just look at them!   The presentation is beautiful and the six 'chocolates' all contain natural Cocoa Butter and essential oils; cocoa and chocolates without a single calorie.
Now that's what I call the perfect chocolate gift for those in a no-chocolate-fly-zone and Becky told us that they smell 'absolutely gorgeous' too.
"My children were incredibly jealous, especially my 7-year-old daughter who could not believe her eyes," me neither - this review could take me some time to write as I can't stop staring at all the Soap Star Gifts images.
This wasn't the only Soap Star Gift we sent to Becky and whilst she confessed she's not the biggest 'bath person' in the world, she felt this put her in an ideal position and could test them from a position of bath impartiality.
A firm, but double-edged sword, favourite were the three cupcake bath bombs (£7.49).
"I love the drama of the bath bomb.  The smell is lovely, the oiliness feels very moisturising, but I really don't like the job of having to clean out the bath afterwards," Becky told us.
I have to agree, there are few things as 'soul destroying' as enjoying a lovely bath and then having to spend ages cleaning the tub when you get out.
"The glamour of petal like bits floating in the bath is replaced by the hassle of trying to get them off your skin and bath afterwards.  Although the 'bitty' ones have the most dramatic effect, they are quite tiresome to deal with."
Becky decided she preferred the ones that had just one or two flower embellishments on the top as they didn't come with all the cleaning after effects.
If you're going to give such a Soap Star Gift to the mum in your household this Mother's Day, then I think it should also come with a firm promise that YOU will clean up the bath bomb aftermath for her!
Becky's children totally fell in love with everything from Soap Star Gifts, but due to their lovely oiliness (the bath bombs, not the kids) it did leave them with greasy hair afterwards which required washing again in different water from the bath water.
Becky felt this was a small price to pay for the sheer enjoyment her children got from having cupcakes and chocolates in the bath.
There are bigger and more 'grown up' cupcake bath bombs available from Soap Star Gifts that really are a bit special.
I'm completely in love with these two: La Vie en Rose Bath Bomb (£8.95) which comes gift boxed and is big enough to last for more than a few baths apparently, and this Wedding Ring bath bomb (£8.95).
They are just TOO stunning for words; perfect should there be a Mother's Day proposal in the air or a just to say I LOVE YOU!
And finally...
Everyone is in agreement that all the goodies from Soap Star Gifts are amazing works of art that come beautifully packaged; it almost seems a shame to 'ruin' them by putting them in the bath!
The prices are not extortionate either, and nicely pitched, for a special gift that really will be lovely to give and even more lovely to receive.
If you want to push the boat out and give something ultra special, Soap Star Gifts also offer a bespoke service with prices starting from £25...
"At Soap Star Gifts we specialise in creating luxury gifts to your exact requirements. Whatever the occasions or price we can provide you with a stunning and individual Bath & Body Gift Set made up of the finest products available."
The cost of delivery will depend on how much you spend but once you're over the £50 mark delivery is free.
You also need to allow up to seven working days for your order to be dispatched, so if you're thinking about a Soap Star Gift for Mother's Day then start getting organised now.
That said, Soap Star Gifts do say that they'll try their best to get things to you if you need them sooner, you just have to let them know.