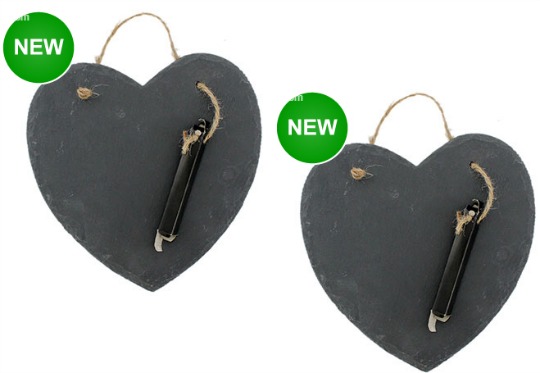 Slate is very fashionable when it comes to interiors and kitchenware at the moment. I have to admit I love it and I own a lot of slate. I haven't got one of these though; a Slate Heart Chalkboard. Sold by The Works, these are only £1.99 at the moment, not sure if they will stay that price or not as they are a new line. The Works also have an offer code running until midnight that entitles you to FREE delivery when you enter it into the box at the checkout. So there you have it a rather pretty little addition to your kitchen for just £1.99. That magic discount code is FREETODAY.
The Slate Heart Chalkboard from The Works is very handy to have in a kitchen to write shopping lists or recipes on, in an office to write memos or in an bedroom to leave hubby a cute message like "pick your pants up off the floor xxx".
It measures twenty centimeters by twenty centimeters so isn't huge but it would certainly do for hanging up in a convenient place on the wall. It has rope attached to hang it up with ease, as well as a piece of chalk to write on it with.
Don't forget to have a look in our voucher section for more codes from The Works.