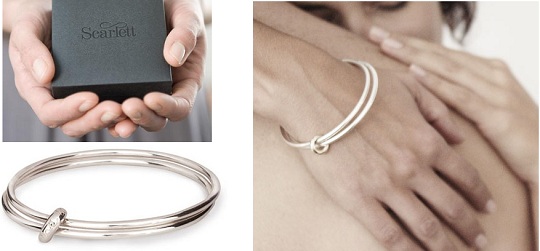 I was really spoiled recently with a beautiful piece of jewellery that I, in my sentimentality, will treasure forever.  It was a bracelet from Scarlett Jewellery, and it hasn't left my arm since the day I put it on.
Scarlett Jewellery was founded in 1998 by British designer Sarah Fenton, who designs and makes all her pieces from her workshop in Brighton. She describes herself as an "eternal romantic" and I personally feel that that is evident in her designs.
The piece I received is called the One Love Bangle (£129) and while their description of it says that it depicts two people joined together by one love, the meaning to me is different: to me it symbolises my two babies, shaped by all the love I can give them. Actually, to me there's a mountain of symbolism in relation to my children, but I won't share it all with you. The saccharin sweetness might be too much to bear.
The quality of these bangles is beyond reproach. They're beautifully crafted, the 'one love' inscription is finely engraved and looks exquisite. The sound of silver on silver is bell-like and beautiful and feels feminine just hearing it. In fact I love the silky jingle it makes, because it reminds me of the symbolism behind the jewellery and re-fills my new mummy oxytocin levels.
There's a lot on offer at Scarlett, and they're worth baring in my for any occasion – the big ones like Mother's day, Father's day and birthdays or anniversaries, and the small and private ones, like a new mum present,  Christening gifts and collections.
The quality of these items surpasses that of even some of my more expensive jewellery, and in my view, adornments from Scarlett Jewellery are worth every penny.