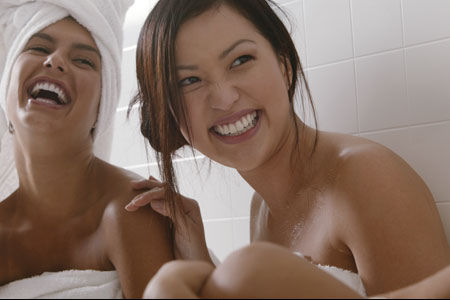 The Mum Panel got a bunch of Beautifully Delicious products to review for Mother's Day and we have one enormous problem. They won't get out the bath. Husbands are frantically calling me, demanding that I "Do something".
What am I supposed to do from the bath?
Your mum will adore getting these on Sunday and, the best part is that they are really, really good value for money.

In this little box of joy you get Coconut and Shea bath and shower cream, Coconut and Shea body lotion, Papaya and Mango bath and shower gel and Papaya and Mango body lotion. Each of these 50ml tubes lasts a wonderful while and smell divine.
"The Coconut and Shea body lotion and shower gel both smell absolutely amazing," said Lola, "Sweet and natural and not at all overpowering. The shower gel lathers nicely and left my skin feeling soft and supple."
Other mum panellists agreed: "I found that the lotions didn't smell to strongly and that my skin adored them," said Marianne, "And they seem to last forever. I've been using mine every day for a week and there is still some left."
The price point of the set is also worth cheering about.
"The Minilicious set is only £4.98 and I think that is an absolute bargain for four divine smelling products that both feel quality and make me feel truly pampered," said Lola, "I think the set looks and feels like something more expensive so, in my opinion, offers great value for money."
The gift set is well presented and designed so it is a lovely extra to slip into your Mother's Day parcel that won't cost the Earth but will bring a smile to her face.

I am a huge fan of body scrubs, I love the way my skin feels afterwards. This range of products has long been on my shopping list because of the value for money and the smell so I was rather pleased to get a lovely tub of the Honey and Almond variation.
If you suffer from dry skin this is an absolute must. My skin has suffered under the yoke of hard water for quite some time now and these scrubs have probably stopped me from looking like a scaly monster. And I'm not the only one to think so...
"It smells absolutely delicious, not too overpowering and very natural," said Lola, "I couldn't wait to use it and was absolutely delighted with the product. I've used other body scrubs before that have tended to leave a residue on my skin after use, but this one rinsed off easily. It also left a subtle fragrance which I loved."
I have to agree with her, the smell is divine but it doesn't hang onto your skin. As I've mentioned in other reviews, I really don't like it when a beauty product overwhelms the smell of my expensive perfume so the fact that I could use this and still spray on my fave scent was a winner.
"The tub is more than enough to treat yourself to a pampering session four or five times, which, for less than a fiver, is well worth it I think," said Lola.
Lola got the Beautifully Delicious Coconut and Shea scrub that uses sugar as the main exfoliant and that comes in at £4.98 for a 200ml tub. As a result she did have a slightly different view on the price point.
"The tub isn't huge but it is available in a 620g jar also," she said, "I think perhaps the jar would make a prettier or more substantial gift and the 200ml tub should be a treat for yourself."
Marianne and I got the Honey and Almond and this is what Marianne had to say about the value;
"I thought that this was a lot of product for an extremely decent price," said Marianne, "I know this sounds clichéd but I will definitely be buying this product from now on."
So there you have it – a lovely body scrub that moisturises, smells nice and does what it's supposed to for only (for the Honey and Almond) £3.98.
And Finally
The site has a lot of different products and, considering these comments and reviews, it's likely that you won't go wrong if you decide to whip up a gift basket of your own making. You can probably create quite a lush pamper package for less than £15. Now I really do need to have someone send me a product that's awful because so far all of our reviews have been glowing, and this one is no exception.