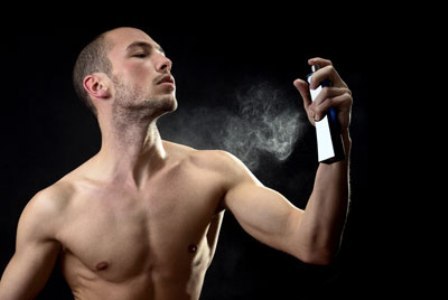 Oh yes, this was one fabulous way to spend an afternoon or two, sniffing the wrists and necks of yummy hubbys as they tested out a range of men's fragrances from The Perfume Shop.  Unlike the ladies, however, the men were sharp and to the point in their reviews but they certainly knew their minds...
Remember, these are assessed according to looks, smell, children's reactions, sustainability and price point.

Well, this particular bottle got a very mixed reaction from the men. It was as controversial as the Marc Jacobs Lola bottle we reviewed yesterday. "Oh my," said Adam, staring at it in horror mixed with fascination, "That is one bling bottle."
"The presentation bottle and the name are a bit ostentatious," said Matt, looking at it with huge amusement.
However, all the men agreed that while the bottle was a tad vile and would need to be hidden in the sock drawer, the scent was fantastic.
"This fragrance really delivers," said John, "This is an amazing smell that really doesn't attack your senses, rather it makes you feel nice and warm."
"I think this is a not too macho scent with a pleasant figgy bouquet," said Matt, "Also, the smell ahs a lot of stamina."
The men all felt that the scent stayed on really well, and for long periods of time. One even went so far as to sweat the morning away doing DIY and then sniffing to see if the smell remained.
"Yep, this is a stayer," said Adam.
The 100ml spray is on sale at The Perfume Shop right now, down to £39.99, making it a solid price point for a smell that is sustainable and pleasant.
Overall this scored well with the men and the kids but the bottle design did not really appeal to anyone.
This stalwart of the male fragrance world has been popular for quite some time and I have to admit that it is one of the defining scents of my relationship with my husband. He wore it when we met and it always transports me to that deliciously romantic time.
However, it was not me who had to be won over by Jean Paul, but our panel of dudes.
"I'm not a fan of the bottle," said Matt, "It is a little 'Hello Sailor' for me."
John and Adam disagreed though, "I don't really mind the design," said John, "It's certainly nowhere near as insane as the 1 Million."
The men all felt that the smell was very distinctive and it did smell quite differently on each of them. Adam and John both felt that this was something they'd use regularly as it was nicely individual and had a lovely base note. Matt was not that convinced, "The fragrance is fruity and floral and not for those who like a more musky fragrance."
It really is very much a case of personal taste here but the kids all loved it. Every child felt that it suited their daddy and one went so far as to add, "Daddy you smell nice this time."
I won't say which dad looked injured at this point...
Jean Paul Le Male lasts for ages and comes in at a solid price of £51.50 for 125ml at The Perfume Shop. It gets extra marks for the fact that the different sizes all come with a fab free gift if you nab one of them today.

This bottle already had all the men sitting up straight and looking interested. A neat design that sits chicly on the sink/dressing table/manly changing space, this bottle was a complete and utter hit.
"Finally," said Matt, "This bottle has clean lines and is truly the one."
Nice pune, Matt.
"I really like this bottle," said John, "It's simple and chic and doesn't make any big statements. I rather approve of this before I've even smelled it."
The design won them over but what about the smell?
"The fragrance is distinctly spicy and I really like it," said Matt.
"I like this one the best," said Adam, "It is solid and quiet with a hint of spice that doesn't get up your nose."
The kids weren't impressed one way or the other, the smell was that neat and comfortable. They barely noticed when manly wrists were stuck under their noses for testing. This, I think, gives it good marks as it clearly isn't going to offend children's sensibilities and may be light enough for babies. Not newborns though!
Sitting at £46.50 for 100ml at The Perfume Shop it's actually one of the least costly and has one of the longest lasting smells. So far, this one is a winner.
Erm. This particular design was met with hysterical laughter. I won't go into the specifics but the design got the lowest marks of them all. However, it got some of the best comments for smell from the...women! The men were so put off by the enormous fist of doom that they were inclined to dislike the smell. However, every single wife and partner raved about how divine their men smelled after this one was put on.
In fact, not one man had a bad review from his other half when wearing this. This fragrance seems to have included pheromones.
Kids liked it, mums adored it but it wasn't as sustainable as the others on test so far. Still, Only The Brave has scored the highest in the smell test of them all. If you want to be the one who appreciates how your man smells, instead of the other way around, get this for him. Get it now.
£47.99 at The Perfume Shop.
The clear winner is definitely Boss by Hugo Boss. The men thought that the packaging and design were simple and clean and were happy to have them out of the sock drawer and on display and the ladies loved the smell. In fact, even the men went about sniffing their wrists for quite some time after they'd applied it. It is a clean and bright scent with a musky base note that left everybody wanting more.
"I am sold on this one," said Adam, "I am going to change my usual scent for this one without even a backward glance."
"Great packaging, brilliant smell and wonderfully long lasting," said John.
Indeed it did last a while and it also sells for only £42.50 for 100ml at The Perfume Shop. Of all the scents we reviewed, Boss is the one that is most likely to suit all personality types and appeal to all men. It would be the ideal Valentine's gift for anyone who is unsure of their partner's taste but wanted to get them something truly special.
Final Thoughts
Boss and Only The Brave offered up the most generic scents for men, making them good gifts for men who have very broad taste in fragrance. However, the bottle design of Only The Brave may terrify the fainthearted. Jean Paul Gaultier, The One and 1 Million all had very specific smells and would be good choices for very confident and outgoing men.