PlayPennies Competition: Win A Year's Supply Of Cards With Scribbler!!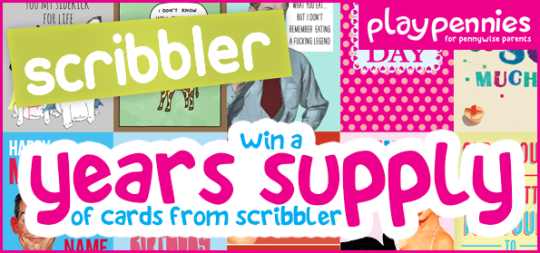 *****THIS COMPETITION IS NOW CLOSED*****
How would you like to kick off Mother's Day and Easter with a year's supply of cards from Scribbler? Yeah, I thought so. This is a fantastic prize and I have to admit that I am dead jealous that you get to enter while I just watch.
Scribbler has cards for everyone. Honestly, they do. Go and look here and tell me if you think they don't have a card for you. There's funny, sad, sweet, seasonal, sentimental, silly, entertaining, heartfelt and more.  Of course, the first place you need to look is in their For Mum section because this competition is all about Mother's Day!
You can upload a photo card or you can choose something rude and silly. We absolutely LOVE the vintage cards with a twist and the Information cards that are plain, but have really lovely messages.
If you win this prize you get to choose up to 30 cards to take home for yourself – a year's supply! Your Mother's Day, Easter, Christmas, Halloween, Valentine's Day and birthday cards are completely free. We guessed that you would need about 30 of these cards and so the total that you can win is, well, 30 cards.
This epic competition will make sure you don't forget those special people on those important dates – well, at least for one year anyway!
How to enter:
To be in with a chance of winning this amazing prize, simply answer the following question:
What is the best thing about YOUR MUM?
Pop your mum's most magnificent trait into the comment below and you could be the winner of a year's supply of cards from Scribbler.
BONUS ENTRY RULES:
Recommend a friend. Get a friend to enter the competition and you both get TWO entries.
Tweet the competition. Include the link, tell your friends, share the link below and that nets you another entry.
Rules:
Contest ends on 24 March 2014
Open to UK residents only
One type of entry per household
Must complete email verification when subscribing
Must include a valid email address if commenting
Admin's decision is final in all cases