We regularly feature photobook deals here on PlayPennies, so we thought it about time that we reviewed one. I say 'we', but of course, I mean one of our PlayPennies Mums – Lee-Anne, mum to one, to be exact.
The brief was simple: Build a Photobox Photobook, order it and let us know what you think.
"For the last four years, I've made quite a number of photo books. For funerals, weddings, birthdays. They make a lovely gift, and something for everyone to look at. So," Lee-Anne decribes herself, "I'd say I'm pretty old hand at creating one".
"I was particularly intrigued by Photobox's 'instant photo book' service," she begins. "Now I know full well just how much time one of these takes to make. By the time you've selected your photos, arranged them in order, and then placed them on the pages it is the better part of the afternoon." And she's too right. I once spent an entire week of holiday designing three photobooks for family.
About getting started, Lee-Anne wasn't too impressed, and found she wasted a lot of time.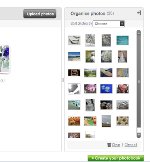 "With Photobox you upload your photos first, naturally. This was the first time I had used them and I couldn't easily see how I could create an album first to put the photos in. Which would have been easier, as each time you upload a few photos, the screen on the left changes to show all the photos you have in Photobox albums. I had to go back each time to the previous screen to get the Upload button. This could have been a little bit easier.
It did get better from there though. "Once photos were uploaded I could quickly scan through, orientate individual photos, and rearrange them. Then I was given the option of using the instant service, or manually placing images in the book. I chose instant, and was really quite surprised at how well the photos were arranged. I didn't have to make many changes. I was happy with the photo on the cover, and with most of the images it had chosen to make into the full pages. It was also very easy to remove photos from the page, and change them around."
I've personally used Photobox plenty of times in the past, but not recently and must admit, this sounds a fantastic service! It would save me actual hours of fitting in, fiddling and shifting things about.
The only negative Lee-Anne found was not being able to change the layout of the page to adapt the number of pictures on a page. (You can do this by clicking on the edit button. It takes you to a new screen with 'layout' as one of the options.)
But, the benefit of this 'instant' service is apparently the massive amount of time saved. "All in, with editing and captions, it took me half an hour to create a photo album I was happy with. It isn't really 'instant' but it does do all the boring bits (laying out the pages) but allows you to make the changes you want like moving photos around and adding captions, quickly and easily." Half an hour to do a whole photobook? That's a winner to me!
So, Lee-Anne sent off her order, and sat back waiting for it to arrive. Or with a young son, probably didn't sit back, so much, but still, waited.
"The photobook arrived earlier than I expected. It comes in a really sturdy box that you can carefully open if you want to use it again. Which is what I plan to do with the next photobook as I am creating one for my parents too. Inside, the book is in a plastic bag to keep it safe."
"I liked the size and clarity of the photo I chose to use on the front of the album. I got a fairly standard album, with the standard covers. This has a nice gloss to it, with a shiny look and really thick front and back covers. The inside pages are matt black, and then you get to the photos."
The photo pages are fairly heavy weight, and slightly glossy.
"I tried to do this photo album as fast as possible, since that's its 'unique selling point'. I didn't adjust any of the photos, except for orientation. The automatic settings are clearly set fairly high on contrast, which worked well for most of my photos adding depth. However, the snow photos are simply too bright, and too dark, and they didn't look as good as the normal prints I have had made."
There was one fairly large problem with the album, which was totally a user mistake: Lee-Anne hadn't thoroughly checked it before printing, and found an image she hadn't changed the orientation on. "The fact that you can make this photo album so quickly did lead to me being careless. I left one photo on its side! When I checked for the correct orientation, I missed that one. Also one photo wasn't good enough quality for the larger, single page slots, and I missed that. It printed rather pixellated. I don't take all the blame for that though. Although you are warned as you go through if the program has issues with photo quality, this warning isn't clear and I missed it a few times." It's unfortunate that Lee-Anne missed this as there's actually a button specially to check the quality of your pictures, which tells you which pages aren't really up to scratch.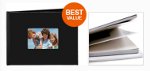 So, Lee-Anne's overall impression of the Photobox Photo book?
"I was very happy with the result. In less than half an hour I made a lovely book with lots of photos and captions that tells the story of a whole year of my son's life, from Father's Day 2010 to Father's Day 2011. I'm pretty happy with that!"