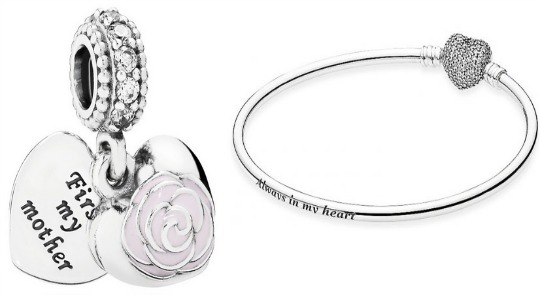 Mother's Day is on it's way as you know and if you adore Pandora or have a mother who is daft on it, then you are going to LOVE this. The Pandora Mother's Day 2015 Collection is available at John Greed (an official Pandora Stockist). Items start from just £25, which is reasonable for Pandora, and you get FREE  Pandora gift packaging and delivery.
Pandora is very popular and it's stores seem to be popping up everywhere. They make solid silver and 14ct gold charms and other jewellery pieces. There seasonal pieces tend to sell very well as these are limited editions and are highly collectable.
If you are wanting a nice keepsake for Mother's Day then you might like these: Mother and Friend Charm* is £35, Always in my Heart Bangle* is £75, Mother's Day Rose Pendant Charm* is £55, Mother's Day Card Pendant Charm* is £60, From Us Charm*is £35, Mother's Pride Spacer* is £25, Motherly Love Openwork Charm* is £30 and Signature of Love Pendant Charm* is £25.
Even if you aren't into "Mum" branded things these are very nicely designed and you know that with Pandora you are getting good quality.