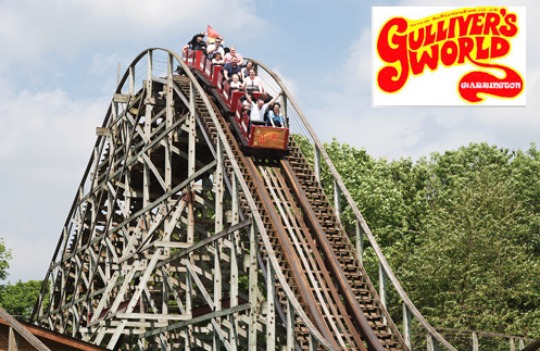 Woo hoo! For once us mums get something for FREE. Of course we all deserve it. What is better than a day at a spa with a glass of champagne in your hand? A day out with the kids. I LOVE theme parks and they are never cheap so this deal is fantastic in my eyes and no doubt in yours to. On the 14th and 15th March, any mother can get FREE admission to Gulliver's Theme Parks when accompanied by one full paying person.  You can book the tickets now using the link below.
There's lots to do at Gulliver's Theme Parks, with attractions like Calamity Canyon and Jeep Safari. Don't worry about it being just for older kids as they cater for the whole family. What I will say is that if you are a lone parent with more than child, some rides require an adult to ride per child. I learnt that the hard way and had to borrow someone to ride with one of my sons.
And it doesn't just stop at Mother's Day, oh no, Father's Day gets the same kind of offer. You can see more details of that here*. What about Granny and Grandad? Don't worry they get in FREE come Grandparents' Day in September, look here*.
Thanks to andywedge @ HUKD