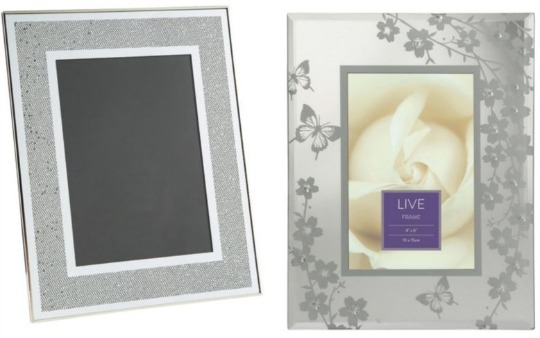 It never hurts to go down the sentimental route when it comes to choosing a gift for Mother's Day. Tesco Direct have selected photo frames reduced just now, which is very convenient because you don't get a more personal present than your favourite photo in a pretty frame. The entire photo frame range at Tesco Direct starts from a very cheap £1 so you can afford to buy flowers and a car to go with it. Mummy will think you are being extra generous this year. The variety of different designs is great and you'll be sure to find one for every taste.
We all have that one photo of our kids that just melts our heart every time we look at it. Why not display it somewhere in the house where it'll cheer you up as soon as you glance at it?
Some of these photo frames have great savings on them like these:  Tesco Sequin Frame* was £9 now £3, Tesco Gold Glitter Frame* was £7.50 now £2.50, Tesco Mirror Glass Floral Frame* was £6 now £2 and here is a vase to put that bunch of flowers in too....the Tesco Optic Stem Vase* was £10 now £2.50.
Delivery is £3 or you can save on that and collect your order for FREE from your local Tesco store.