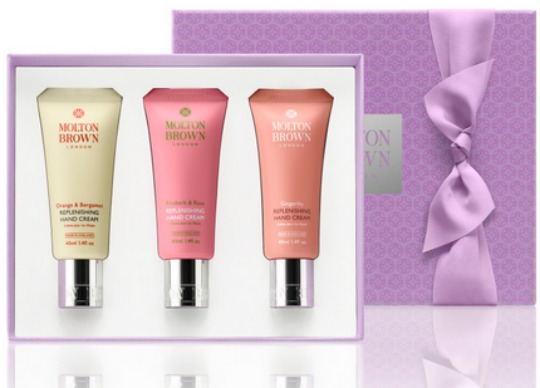 Molton Brown may not be the cheapest when it comes to toiletries, but a sure sign that they are a luxury brand is that celebs use them as well as high end hotels. I won't lie to you I am a fan, but I rarely buy from them unless an offer is on. With Mother's Day in mind, they have nice gifts from just £10 plus they are offering FREE delivery and a FREE Sample of your choice. They wrap up your order as a gift for FREE too and give you a FREE handwritten message to go with your gift should you want one.
So, what can you get for £10? Limited Edition Hand Cream in a choice of four different fragrances: Pink Pepperpod*, Coco and Sandalwood*, Ylang-Ylang* and Orange and Bergamot*. Delivered for FREE.
For £18 you can get the Hand Wash and Hand Lotion Duo Sets, available in Orange and Bergamot* or Rhubarb and Rose*.
These Little Luxuries Gift Sets are great presents at £25 delivered. Available for him* or her*.
With every order you get to choose from Silver Birch Body Wash, Orange and Bergamot Hand Lotion and Japanese Orange Body Wash.