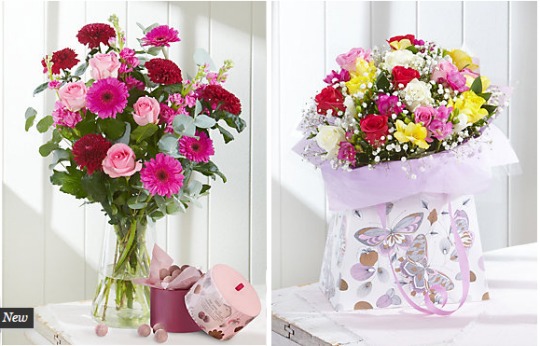 I was looking around for the best deals on Mother's Day flowers, and by far the best I have found is Marks & Spencer. For Mother's Day they have bouquets and floral gifts from £20, and all include Free Delivery on Mothering Sunday itself. You can opre-order now, and the feedback on the quality is great.
There's also a special offer where certain of the massive £35 bouquets come with a free box of chocolates if you order before the 6th March. That seems a great offer. Delivery slots will get booked up too, so you definitely need to think about booking a delivery soon.
As a comparison, Asda have cheaper prices, but there were no delivery slots for Mothers Day in some areas, Debenhams can't deliver on the day either and have some poor feedback on the quality, and interflora just seemed too pricey altogether. All round M&S were winning.
If you live near your Mum and can grab a bunch on your way round to see her on Mother's Day then you have your choice of the supermarkets and flower shops, but if you live further away or can't visit then getting a bunch delivered is a lovely way to show that you are thinking of her, and my vote is for M&S.