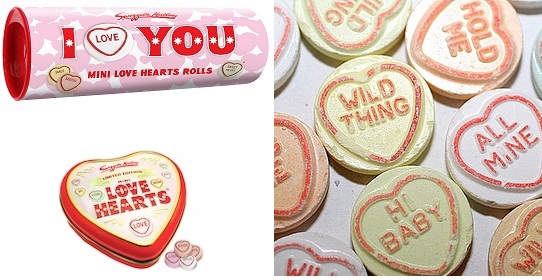 Do you know who makes those little Love Hearts sweets? Just in case you don't know what I mean, those are the little round sweets with messages on them, like True Love and Be Mine. They're made by a company called Swizzels Matlow. Now that's a pretty cool name, to me anyway. They also make Parma Violets, Drumsticks and Refreshers. Yum, yum and double yum. But Love Hearts are my favourite - so full of fruity, fizzy, chalky, sugary goodness.
Valentine's Day is just around the corner. I think it is totally unfair they've stuck it in the middle of half term mind you. If you've got kids it is harder to get romantic in the evening when you've spent the day looking at dinosaurs and queueing in the Natural History Museum. Mind you, when you've got kids it is harder to get romantic full stop.
It seems quite natural that there's a special range of Love Heart's products specially for Valentine's Day. The new range of Love Heart's is pretty cool. If you like these sweets (and make sure your loved one does before giving them!) then they make a fabulous alternative to the usual box of chocolates or a bunch of over priced roses. I know what I'd prefer! I received three items for review.
Love Hearts Valentines Tube
Rather like the tubes of sweets you get like Rolos and Fruit Pastilles at Christmas time, the Love Hearts Valentines Tube contains mini Love Hearts rolls (£1, Sainsburys). The tube is a pretty pink with I Love You in large letters. Now, I have to admit that from the description I was expecting mini Love Hearts - as in tinier ones than normal. But actually what you get are full sized Love Hearts, it just just that the packet is smaller than normal. So you probably get about half as many in one of these packets. There were 10 packets in my tube.
Which was kind of disappointing. The tube is big, so I rather expected it to be stuffed full. Most of the space is taken up by the bag that the mini rolls are in. However, it is only a quid for the tube so you can't expect too much. The heart's have messages like True Love, My All, and rather bizarrely, Don't Cry.
The Good: I love the packaging and the price. Plus they're Love Hearts. Nuff said.
The Bad: Really though, only 10 packets?
Overall verdict: 8/10
Love Hearts Tin
The limited edition Love Hearts Tin (£3.50)  is absolutely my favourite. In fact I'm going to buy this one for my other half. He can't eat chocolate, but I know he likes these fizzy sweets. And the tin itself is just so lovely!
The tin contains 325g of mini love hearts. Now unlike the tube, these are actually tiny love hearts, with just one word on them, including Love, Hi, Bad and Wild. Also, while the hearts are in a bag, they're loose and they've stuff as many in there as can fit in the tin. Woo hoo!
They're giving away tins on the website at the moment (click on the link in the picture).
The tin itself is a good size. Bigger than my hand. It is mostly red too, with just a little pink. Enough to make it Valenine's, not so much to make it entirely girly. So all in, a really lovely gift.
This limited edition Love Hearts Tin gets a Worth Every Penny award from me!
The Good: a nice tin, lots of sweets.
The Bad: not sure I can think of any. I think they're good value, but if you're not such a Love Hearts fan it might be so worth it.
Overall verdict: 10/10
Love Hearts 4 Giant Rolls
There's nothing specifically Valentines about the packet of Love Hearts 4 Giant Rolls (£1.09), apart of course from them being Love Hearts. That said, they are giant rolls of these yummy sweeties. Tucking a few in with a gift or on the table if you're making a special meal tonight wouldn't go amiss. If you can resist scoffing them all down.
Just in case you're still confused from the use of the word mini, as I was earlier, the giant refers to the size of the packet rather than the size of the sweets. Sadly. I'm now fantasising about giant sized love hearts ...
These have messages like I Love You, Be Mine and Email Me. Hmmm personally I don't find that last one particularly romantic!
The Good: they're giant sized rolls! And you get four for just over a quid.
The Bad: not specifically valentine's day themed.
Overall verdict: 9/10
And finally ...
There's more in the Swizzlers Matlock gift range. If you don't want to give sweets, take a look at the cute Love Heart's tea lights, for example.