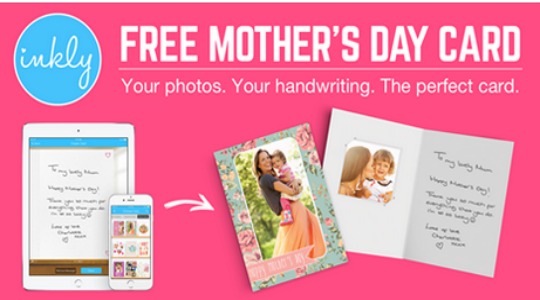 If you didn't take advantage of the Inkly FREE Valentine's Day card then let me tell you, I did and I was VERY impressed. At last a personalised card that has my handwriting printed inside. The quality was second to none and it came very quickly. Not to mention that I only had to pay postage as the card itself was FREE. My other half loved it so yes, I am excited that Inkly are doing it again. This time for Mother's Day...get on of the 50,000 FREE Personalised Mother's Day Card when you enter promo code FBMUM at the checkout. This offer is for new customers only and you will be charged 62p for postage.
Here's how to get yours:
Click the link above and download the Inkly App
Select the card you want
Customise with photos
Get a white piece of paper, fold it like a card and write you message on it.
Take a photo using the Inkly App of your message.
Go to checkout and enter the promo code FBMUM
This will deduct the cost of your card and leave you with just 62p postage to pay.
It's as simple as that, and you can choose your delivery date and where you want the card sent.