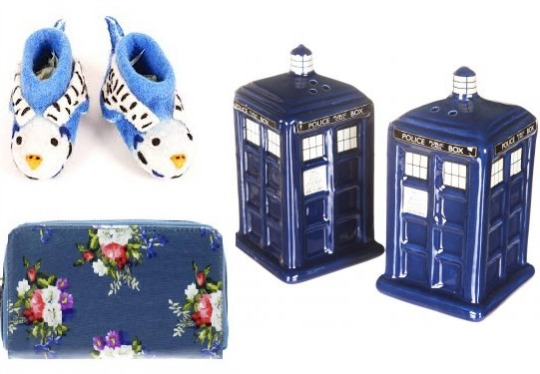 If you have never heard of Internet Gift Store, then let me explain. They sell an array of items that would make great presents for whatever the occasion, from the quirky to the pretty, they have it. I love to find goodies in their gift clearance section and there are plenty today. From just 49p delivered you can get your mitts on children's drinks bottles to jewellery for Mothers' Day. They offer FREE delivery sometimes and from now until 15th March you can get anything on their site delivered for FREE.
Mother's Day is nearly upon us so check these out: These V&A goodies are Cath Kidston-esque and as a mummy I'd love any of these lovely accessories. V&A White Strap Purse* was £15.99 now £3.99 delivered, V&A Blue Wallet* was £14.99 now £3.99 delivered and V&A Grey Floral Carry Bag* was £19.99 now £3.99 delivered.
For all of those other occasions, here's some quirky gifts: These Sew Heart Felt Budgie Slippers* were £24.99 now £7.99 delivered and the Dr Who Tardis Salt and Pepper Shakers* were £14.99 now £4.99 delivered.
It's worth a look as there are some really different ideas for gifts.