It's almost Mother's day – 3 April, if you didn't already know – and we know you're on the lookout for something extra special for your mum, your wife, or – ahem!- yourself, from, you know, the kids.
Most mums love a little R&R time, the ability to relax and unwind and just have a nice massage. Unfortunately few of us get to have those as often as we would like, so HoMedics have stepped in and created a wide selection of massage and well-being products. We sent a few test products off to PlayPennies mums Lola and Heyejung to see what they thought.
The first product sent to Lola was the HoMedics Snuggly Bear Massaging Booties set. "These are," she says, "quite simply, insane."
Lola wore them. Her kids wore them. Her husband wore them. Apparently they all giggled the whole time. For her, they were both nice and weird.
"These doodads have battery compartments at the back of each shoe which take two AA batteries each. You then slip the booties on (they are super soft and comfy) click the button on the side and bzzzzzzzzzzzzzzzzzzzzzzzz your feet get massaged."
Functionality wise, Lola says "If you sit with your feet up, they vibrate your entire foot. If you walk around they tend to vibrate your ankles. The actual fabric is super soft and snuggly and the little bear adorable."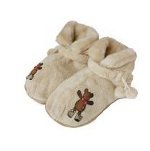 While it wasn't quite the hit it should have been with Lola's family, she says other friends "found it fun and lovely and one friend actually stole them from me she loved them so much."
The HoMedics Snuggly Bear Massaging Booties are available from Argos, Amazon, Next and House of Fraser in sizes 4 – 8, come with 4xAA batteries included and cost £19.99
Our next product was the HoMedics Splash Water Resistant Mini Massager.
To Lola, this was a hit. She says, "The Husband sits with him at night using him on his back and shoulders after a long day at work. The child chases me around the house with it and massages my bum. She has so far massaged the fridge, the cabinets, her bed, Mr Piggly, the washing machine, the dishwasher, the bath and the oven."
Apparently the Splash Water Resistant Mini Massager has a strong massage power, which makes your hand rather itchy, which means you can't hold it for very long.
"The solution," says Lola, "is to place it against the sofa/wall/floor and lie back against it so it works without discomfort to your hands."
A downside of the mini massager is that you have to press down on it to activate it, which can be tiring.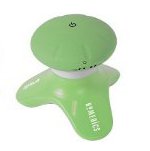 Although it can be used in the shower, our mum tester wasn't sure why you would – although that sounds rather lovely to me! Her husband did test it in the shower and said it was nice.
The HoMedics Splash Water Resistant Mini Massager is avialable at Argos, Amazon, House of Fraser and Boots for £9.99, and in three different colours .
The final product was tested by PlayPennies mum Heyejung. We asked her to review the HoMedics Shiatsu Foot Massager.
"In short," she says, "I absolutely loved the Shiatsu Foot Massager!"
The Shiatsu Foot Massager has six rotating nodes to provide the ultimate relaxation to your feet. It warms up to soothe sore muscles and has 18 massage heads.
Heyejung says, "Considering I'd never had my feet massaged until I got this machine, I was pleasantly surprised to find myself getting into it.
In particular, the heated massage experience was something else!! Having grown up in South Korea, where all the houses have under-floor heating, I always really miss warm floors in the English winter."
Initially concerned about it tickling, Heyejung was relieved to find that wasn't a problem. "As soon as my feet touched the heated moving massage heads, it was a lovely sensation. The heads gently press and roll against your skin, providing a relaxing and soothing feeling, which was especially nice against the balls of your feet. I was more than happy to keep my feet on the massager for half an hour. If it wasn't the instruction to use for a maximum of 30 minutes at a time, I would have left them there much longer!"

Operating the massager couldn't be easier, and Heyejung loves that it's a good size, and easy to store. "You simply plug it in, turn it on and press a button. There's no waiting around for it to heat up and all you have to do is put your feet on, and relax. On top of that, the Shiatsu Foot Massager is a handy size, and easy to put away without needing too much space. Another plus point is that because it is recommended that you use this machine with socked feet, there's no problem with keeping it clean."
The HoMedics Shiatsu Foot Massager is available from Argos and Amazon for £69.99 - and Boots, where it's currently on sale for £40.84.
Final thoughts from the mums?

Lola gives the HoMedics Snuggly Bear Massaging Booties a 9/10 for comfort and looks but the vibrate function , "not so much". She says it's an "awesome Mother's Day gift, really, for someone who likes to have their feet massaged, a NO for anyone who hates having their feet touched."
The HoMedics Splash Water Resistant Mini Massager gets a 6 or 7 from Lola. "For this price," she says, "And the sheer entertainment value, I have to say it is great. As a massaging device I think the fact that you have to press down so hard and that your had vibrates is a bit of a downer."
"Overall," says Heyejung of the HoMedics Deluxe Shiatsu Foot Massager "I thought this was an excellent product. And I'm seriously considering buying one for a mother's day present."
So, for not too much money, you can invest in a little bit of home relaxation for mum, and with the options available, you can make sure she gets something she will like.